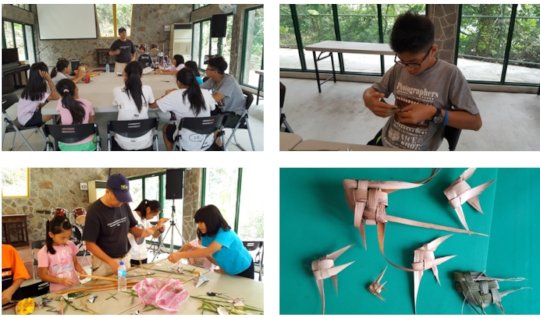 San-Yuan is a really nice guy and a warm-hearted teacher, and he is really good at knitting art activities. Through the activity he wants the kids to learn that "everything you do, you need to work hard and have patience." Children in Agape Children's Home will share what they've learned down below.
-
Teacher San Yuan's knitting class is fun, he teaches us how to make paper butterfly, and even uses grass to make birds and fish. In our free time, he also teaches us how to sing. If you never used grass to knit before, making a fish will be a challenge; yes, it's a big challenge for me, but I have decided to take this big mission, not only finish it but also make it into my own artwork. When people finished the little fish, the teacher challenges us to turn it into a big fish. The "developing" part is really complex and hard, but following the teacher step by step, we still made the impossible happen. When we finished and I look back, I learned that with enough patience and will, anything is possible, nothing can stop us! Teacher San Yuan said when next time he comes, he will prepare something even harder for us. Because of this, I'm super excited for the next knitting class to come.
Through this knitting activity, I have learned that doing anything, you need a lot of will and a lot of patience. The hard thing is you need to face it and learn, and once you have learned how to do it, it will become easy. Teacher San Yuan woke up really early to go to Sun Yat-sen Memorial Hall and collect the best Ingredient that we needed for knitting. Through his action, I can really see that he really cares for us, treats us like his own family. I also learned from him that we should have more patience for first timers, a little bit of patience will make a big difference.
A year ago, we met Teacher San Yuan at a dinner party, he taught us how to make a paper 3D butterfly, and he promised that he will come back and teaches us more stuff.
I was excited to hear that he came back to us again.
-
Through Diversified Learning Project for Children, we aim to help children in Agape Children's Home and Mustard Seed Youth Home to explore more via learning!
Links: