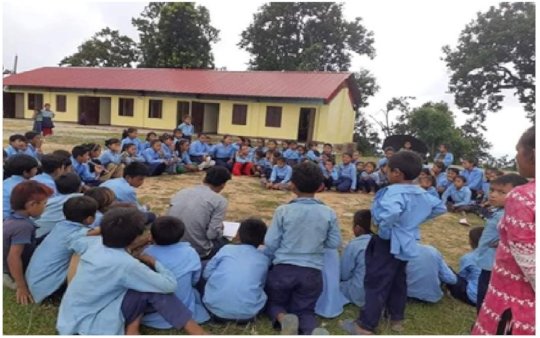 HIMRIGHTS organized one day program against human trafficking in Shree Sagarmatha Adharbhut School, Rupachuri, Manahari Rural Municipality, Makwnapur, Nepal, September 5, 2019 with the support of GlobalGiving. There were 28 students from grade 6-8, 15 girls and 13 boys.
We conducted this program to raise awareness against human trafficking especially with students. We focused on what is human trafficking and what could be students' roles for its prevention. We also wanted to assess students' exsiting knowledge on this heinous crime against humanity. We conducted this program on this particular day to be part of the National Day Against Human trafficking.
The program started with HIMRIHGTS program coordinator Ms. Kumari Waiba, who gave talk program on what is human trafficking, how people can be trafficked through foreign employment/migration, a thin gray line between migration and trafficking; internal trafficking, exploitation and abuse in entertainment sector which mostly leads to human trafficking. All these were presented with various posters and leaflets. Both the School Principle Mr. Khadkabahadur Moktan and teacher Mr. Sanchalal Thingh supported her in the presentations. After this session the children were asked to do the drawings based on their knowledge on human trafficking and what they have seen or heard in their communities.
The children spent next four hours drawing. They focused on what is trafficking and what could be preventative measures. They felt this program has given them opportunity to understand the issue and learn what they should do to take precautions to prevent human trafficking.
In all the govnement public schools Friday is half day and they have extra-curricular activities after lunch break. Although, they had this type of program for the first time, it was very effective. The Principle appreciated immensely and thanked HIMRIGHTS and GlobalGiving, for such an informative and effective program on this important issue in their school. All the children were so excited to share their drawings and stories to rest of the school once they were done with the drawings.
They also had a small rally next day with the drawings in their community. Unfortunately we do not have any photographs as these schools are in very rural, remote areas, and impoverished areas thus, smart phones and cameras are not easily available. Next time we will try to ensure we have some photographs.
HIMRIGHTS provided colors pencils, pencils, erasers, sharpeners, and snacks for all the children and teachers involved in this program. They were very excited to get these materials. We took permission before taking any photographs of the children and they said that they have no problem using it in public space.
We are going to conduct a series of programs in different schools in this district. This is our second program. First one we conducted in Shree Adharbhut School, ward number 6, Manahari Rural Municipality, in the last quarter. In both schools both the teachers and students really appreciated these activities and requested to continue it. There is serious need to continue this type of program in both public and private schools as the teachers and students will share the knowledge to others on how to prevent human trafficking. We will do follow ups in both schools to assess the impacts and how they are sharing their knowledge with others. Due to rain and landslides accessing the schools and students for follow up has been very difficult. Finally monsoon is over we will we follow up in both schools.