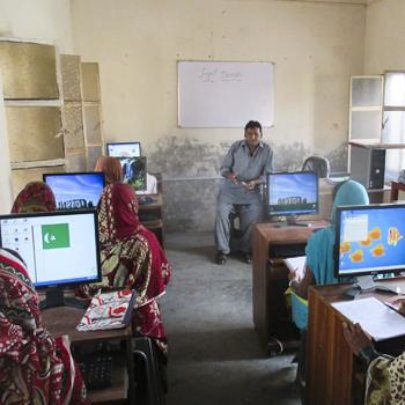 Computer Center
A new group has begun and students are taking the orientation about the computer technology. This group has great expectations to learn many things from the class. Former students are also involved in the community with the local teacher.
*Joshua completed his computer training course from our academy. Joshua was one of the best students in our academy. Not only was he studying about computer technology but was also very active in youth activities. After completing his computer course, he applied for a government job as a computer operator and he was selected for the job.
Joshua said, "I am really thankful for this computer academy that is helping us by providing the good knowledge of computer technology. Whatever I learn is very helpful to me."
Sewing Center
The new sewing group has started to learn their new sewing skills. They are also excited to be part of this training center and have a passion to learn a lot in the coming months.
*For purposes of safety and wellbeing, "Joshua" is a pseudonym for the individual being helped by this project.
Links:
Recently, the GHNI-Afghanistan team has developed a strategy to meet one of the biggest needs of the country—to help the women. Accordingly, GHNI has decided to start several Women's Centers. First of all, we plan to start a couple of centers in a rural region. The main purpose is to provide economic empowerment for the women. We will be providing training and opportunities to produce and sell handicrafts. However, another key is to train the women in the benefits of and how to produce a kitchen garden. This will allow the women to provide diverse vegetables for their family, cutting down on their food budgets, but also enable them to sell the extra produce to supplement their household income. We will also promote health and education opportunities through these centers.
Likewise in Kabul, we are partnering with some women who recently started a Women's Center there. In this culture, it is difficult for women to meet in public together. They can't even have other women come to their homes. Therefore, our team has started a Women's Center to provide not only training in handicrafts but also some counseling and free dental care. The focus of all of these centers is to provide holistic health to one of the most neglected and vulnerable populations.
The included photos reflect how the men support the opening of this center to help women in their regions - wives and daughters futures will be better and the men are excited to have this opportunity for women. The two women are the recently hired trainers who will oversee all activities in the center.
Thank you!
Links:
Our team was able to visit and provide a few basic needs to the refugees in Bangladesh. Our ability to provide ongoing assistance is still being negotiated with local authorities. We want to be certain we are aligning with their wishes and needs, as well as offering the food, shelter and more that is needed by the refugee families.
Rohingya refugee crisis is now about one year in the making, with an estimated 1.1M+ refugees in Bangladesh on the border. Much funding from governments, NGO(s) and agencies has been allotted to this crisis, but still, there are so many needs. It looks increasingly permanent, with military and police presence increasing.
Our team on the ground is seeking optimal use of funds and analyzing how sustainability might be seen in the future. Currently, this seems far off. Relief teams are working to bring first, care to children - helping with education, health and counseling. It may be years before real permanence can be found for these families - either back home, or other countries.
The local military is overseeing all relief efforts, working to bring organization to what can be a chaotic environment. Through relationships, we hope to impact lives while seeking the best solutions.
Links:
WARNING: Javascript is currently disabled or is not available in your browser. GlobalGiving makes extensive use of Javascript and will not function properly with Javascript disabled.
Please enable Javascript
and refresh this page.