Hello Friends,
Let us first honor those to whom honor is due today. Happy Mothers' day to all women who have been in any way conneceted to raising a child. As a mom, I know it is not the easiest but it can be most gratifying.
St Cyril is giving you the opportunity to make this Mothers' day even more memorable.
Honor your mom!
Honor yourself!
Give a "gift of giving" by supporting the treatment of a mom suffering from cancer in Nigeria. Give them the lease of life to get well so they can be there for their own children, as your mom is/was for you.
Now that our first treatment center is open, many people, mostly women who have ABSOLUTELY NO OTHER MEANS of getting treated have been coming to us for help. We all know Mothers' will fight to live for their children's sake and it is heartwrenching when we cannot help.
If everyone donated at least $10 today, we would be helping mothers in Nigeria get well and bringing joy to hundreds of families. One round of chemotherapy treatment can cost $1,000 so please forward this to all your friends.
Bring a smile to the face of a mother today, by your gift..Thank you and remember to forward this to all your friends so they can help too.
Have a wonderful Mothers' Day-if you are being honored or you are honoriing. I know I will..
Warmest regards,
Moji
Attachments: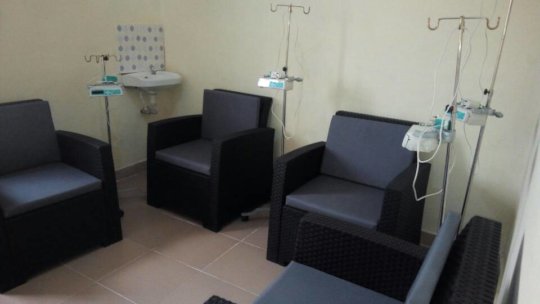 Our dear co-visionaries,
It has been a a really busy but exciting few months. We have been setting up our first chemotherapy clinic and finally opened our doors in January.
Our clinic, St Cyril Isolo Chemotherapy Center, is equipped with infusion pumps, in house pharmacy,and all the essentials medical tools needed to operate a chemotherapy clinic. There are medical and administrative staff including a certified Oncologist, Medical officer; Nurses Administrative officer and faciilities personnel.
To the best of our knowledge, this is the first center in Nigeria to be run by a non profit organisation with infusion pums. You should all be very proud as this is an achievement that would certainly not have happened by now without all our Globalgiving donors. We are so grateful. When things looked bleak with our first center at Lagos University Teaching Hospital, you stood by us. Again, when the opportunity cme for us to start over at a new location, you were there too.
Thank you. Our work icontinues, though. Now we need to support indigent patients to receive treatment and save their lives. This is why St Cyril has started a St Cyril Initiative for Patient Support (SCIPS). This is an initiative that will reduce the number of indigent patients who died whilst looking for funds for their treament. More details to follow........
Thank you again for continuing on this journey with us. Please do not relent.
Forward our mail to all your contacts. Donate as often as you can. Raise funds on our behalf and send to Globalgiving in the name of the project
We cannot do this essential work without you. Thank you from ALL OF US at St Cyril! .Happy Easter
Warmest regards,
Moji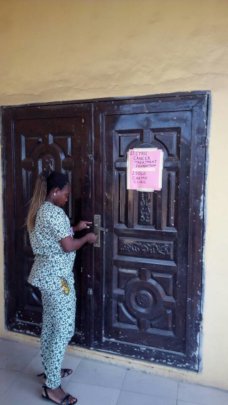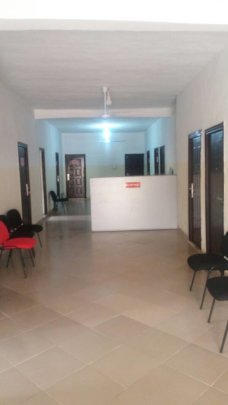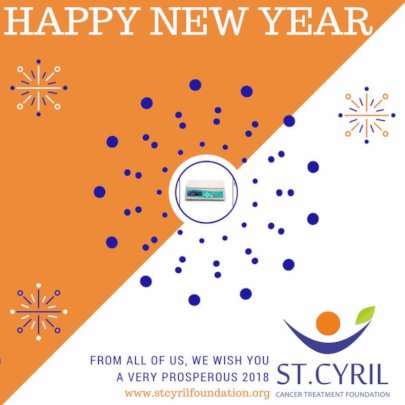 Dear Friend of St Cyril Foundation,
It is indeed time yo be jolly and we are happy to be ending the year on an upbeat note. In spite of quite a few disappointments we are still standing+/AND about to open our chemotherapy clinic in another location in early 2018..
We could only do it with the support of our awesome donors and wonderful volunteers. Through it all this year we still:
Ran two online campaigns- "Know your oncology specialist" and "Time is Now" screening campaign
Our 2nd Annual SeminarPalliative Care in Nigeria with an international guest speaker
Started data collection on cancer incidence in Lagos
Used above data for our Poster Presentation at CEAFON Symposium in Abuja
Started giving care packages to cancer patients in need.
Collaborated with NIOLA Foundation for their Christmas giving campaign
So, you see we have been doing a lot with our finances.
2018 is our year of focus on treatment centers and research data collection. We know that we can count on you not only to support us but tell your friends about us so they can become "Friends of St. Cyril Foundation" as well.
Let us do good together in 2018.
WARNING: Javascript is currently disabled or is not available in your browser. GlobalGiving makes extensive use of Javascript and will not function properly with Javascript disabled.
Please enable Javascript
and refresh this page.