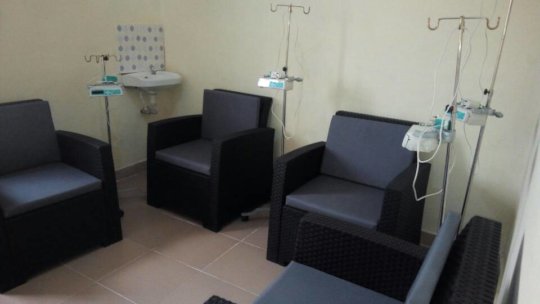 Our dear co-visionaries,
It has been a a really busy but exciting few months. We have been setting up our first chemotherapy clinic and finally opened our doors in January.
Our clinic, St Cyril Isolo Chemotherapy Center, is equipped with infusion pumps, in house pharmacy,and all the essentials medical tools needed to operate a chemotherapy clinic. There are medical and administrative staff including a certified Oncologist, Medical officer; Nurses Administrative officer and faciilities personnel.
To the best of our knowledge, this is the first center in Nigeria to be run by a non profit organisation with infusion pums. You should all be very proud as this is an achievement that would certainly not have happened by now without all our Globalgiving donors. We are so grateful. When things looked bleak with our first center at Lagos University Teaching Hospital, you stood by us. Again, when the opportunity cme for us to start over at a new location, you were there too.
Thank you. Our work icontinues, though. Now we need to support indigent patients to receive treatment and save their lives. This is why St Cyril has started a St Cyril Initiative for Patient Support (SCIPS). This is an initiative that will reduce the number of indigent patients who died whilst looking for funds for their treament. More details to follow........
Thank you again for continuing on this journey with us. Please do not relent.
Forward our mail to all your contacts. Donate as often as you can. Raise funds on our behalf and send to Globalgiving in the name of the project
We cannot do this essential work without you. Thank you from ALL OF US at St Cyril! .Happy Easter
Warmest regards,
Moji