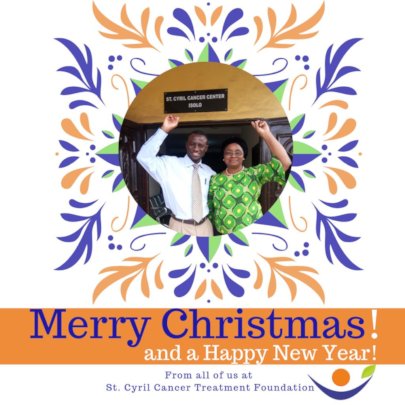 Dear Friends of St Cyril,
As we all enjoy this festive period, I want to appreciate all of you. Thinking about this I decided that I would share with you the end of year message I sent to St Cyril staff.and volunteers. This emotion can also be extended to all of you. Our partnershi6 with globalgiving really has given me such a warm feeling that, in spite of all the wars and strife in the world, most of us want to help where we can to make the world a better place for someone else. Often a person we do not know. This basic human decency keeps me going when times are hard with the foundation.
Her's the letter:
Good morning, St Cyril Isolo team. Compliments of the season.
First let us warmly welcome Temitope Awala, our new Medical Officer and Seun Agboola, our Registered Nurse . We look forward to your full integration into our St. Cyril family and hope you will enjoy working with us. Our clinic is patient-centric and this reflects in all our decisions.
Secondly, I want to commend and thank you from the bottom of my heart, all the staff for the support and diligence with which you have worked since we opened the clinic.
You have all been patient and committed as we build this vision of our Foundation. You have all nurtured it with me and watch as it bears fruit. Every patient we treat well is part of that fruit. Every screening exercise. Every counselling done. Every grant proposal written. Every partnership forged.
All have been to ensure we improve the quality of cancer treatment delivered to patients as in Nigeria- one patient at a time. Rich or poor; high or low; literate or illiterate. Everyone deserves to be treated efficiently, effectively, courteously and promptly, so they can maintain their dignity as they face this serious illness affecting them.
We shall stride into 2019 full of hope and big plans. Our patients will increase and our services too. We shall continue to offer training for our staff. We will improve on funding for indigent patient by raising funds through SCIPS, our patient support initiative.
Omolara F Bolanle, Omolara A, Ebunolorun, Temitope, Seun, Uche, Alli, please continue to support the vision. I appreciate, respect, and love you all.
Shola, thank you for making my dream, your dream. All the hours of volunteer work. Buki, our grossly underpaid business development consultant, thank you.
Merry Christmas and a very blessed and happy 2019.
Fondest regards,
Moji