Folusho and Veronica are our first patients on our SCIPS program. Folusho got sponsorship from private donors and Veronica through our collaboration with Pink Oak.
We are eagerly waiting for sponsors from our friends on Globalgiving. We are putting our focus and efforts on SCIPS for #givingTuesday, so look forward to further updates before the 27th November!
Let's join hands to make this #givingtuesday a memorable one. We are involving our St. Cyril Cancer Treatment Foundation Ambassador- Mofe Duncan. We attach his photo just in case he tags you on Instagram!
Please share this email with your family and friends.
Warmest regards,
Moji
Mojisola Animashaun
Founder/Executive Director
St Cyril Cancer Treatment Foundation
Attachments: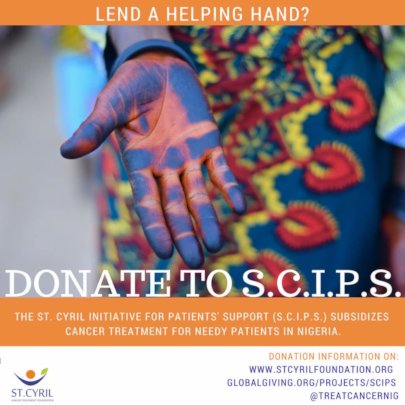 Aduke came to our Isolo Clinic when we had a collaborative program with another cancer NGO to inform and support. We informed nurses by talking about nursing oncology as a specialty in nursing and supported breast cancer survivors by providing free prosthesis, bras and compression sleeves (curtesy of yet another NGO in Canada). She sat quietly in the corner while her mother came to me asking for help for her daughter. She had already lost a child and desperate for Aduke to be saved.
This is a common story in Nigeria. Over 60% of the patients diagnosed will not have the funds to start their treatment immediately leading to growth f the cancer at the original spot (for example breast) and/or traveling through the blood to other parts of the body (for example brain and bone)
S.C.I.P.S. will help St Cyril Foundation increase the number of patients who can start treatment as soon as the cancer is confirmed. The more times we can do this, the better the outcome will be for cancer overall in Nigeria.
Help us to help Aduke and people like her. The World Health Organization predicts that 63% of the 25 million anticipated new cancer cases by 2030 will be in low and middle income countries like Nigeria. There is an urgent need to start helping now so there is a system in place for the long term.
We can only do this with your support. Please donate to S.C.I.P.S.-
one chemotherapy treatment at a time
one surgery at a time
one radiotherapy treatment at a time
So we can ensure treatment for all, let us ensure treatment for ONE.
Warmest regards,
Moji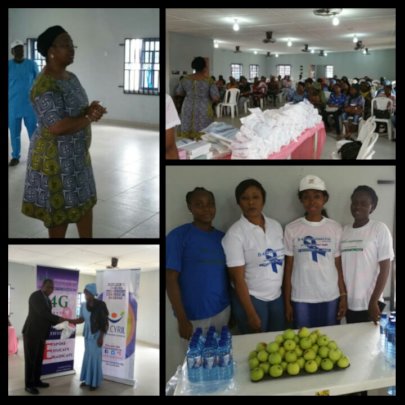 We are going to take time out to celebrate ALL CANCER SURVIVORS IN NIGERIA.
Grappling with cancer is a daunting experience for most people, but this is more so in Nigeria.
Most patients cannot start treatment due to lack of funds; some stop halfway for the same reason; some have the funds but the treatment facilities are not available; some treatments are not completed due to equipment breakdown.
Despite all these obstacles, Nigerian Cancer Survivors are resilient and remain optimistic. That is why we continue to strive for better treatment outcomes for them. And any other way to make their lives easier.
Recently, we collaborated with another cancer NGO called B4G to educate on oncology nursing and distribute free breast prosthesis. We had a lot of fun with our survivors and it gladdens my heart that, in spite of the ups and downs of cancer care in Nigeria, our Survivors stay strong; stay optimistic
You can do your bit to help us keep improving on the situation so more people can be treated, by sharing this email with all your contacts and sending $10 to us through globalgiving monthly to treat our patients.
Thank you, from all of us at St. Cyril Foundation.
Moji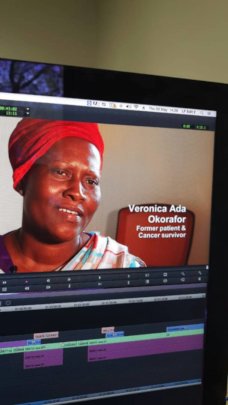 WARNING: Javascript is currently disabled or is not available in your browser. GlobalGiving makes extensive use of Javascript and will not function properly with Javascript disabled.
Please enable Javascript
and refresh this page.