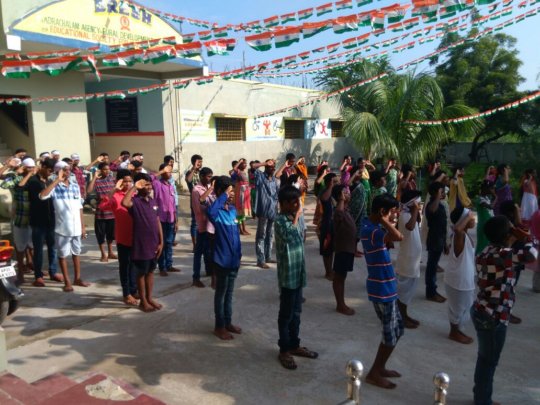 **As per Global giving policies, no Last names are mentioned in this document**
Dear Donors,
With your support, we began a New Academic year (2017-2018) at 'Bresh schools' and are excited about the hopes and surprises it will bring. YOUR support is bringing real changes in the lives of differently abled children at 'BRESH schools'.
While there are many unsung Hero's whose continuous contributions for 'BRESH schools' children are much appreciated, we would like to use this platform to consolidate very few key highlights for previous quarter activities to make it short and precise.
The new academic year for 'Bresh school' has a good start. Chief Manager of ITC-PSPD ,Sarapaka & various leads from ITC-PSPD visited and distributed "Free Note Books " for this academic year to all the children of BRESH (contributions approximate to Rs.50K/$1K). Mr. Niranjan garu contributes the cash value of Rs.1000/- to appreciate the Top talent in SSC at the BRESH school every year.
It was always a blessing for 'Bresh school' children to have a great staff and leadership team apart from generous donors for past few years. Heartly congratulations to one of 'BRESH' school leadership member, Kranthi garu as she has been selected as a member of 'Internal Complaints Committee ITC PSPD BHADRACHALAM'. She is always passionate about giving back to community and her kindness and compassion are beyond words. 'BRESH Foundation' feels very grateful to be partner with 'BRESH Schools' NGO and it's always a great inspiration to see Admin members going 'Above and Beyond'.
Tradition Continues…
Day meal sponsors tradition is continued and different people visited the 'BRESH school' and sponsor the Meals to differently abled students.
Week of June26th- 29th: Sai Friends committee, Bhadrachalam arranged lunch, sweets and fruits to the children in the event of theirs friend, Late Satya Divya Durga's birthday.
Week of Aug 1st - 6th: Mr.Shashidhar garu ( Tirimala Residency,Bhadrachalam ) and his family members visited and arranged meals to the Students and Staff in the occasion of his son's birthday.
Week of Aug7th – 13th: Sri & Smt. Chakradhar,Laxmi garu (ITC,Sarapaka) distributed Fruits and Biscuits to the BRESH children in the event of their's daughter Kumari AKHILA's ( Software,Germany ) birthday.
Week of Aug 14th - 20th: Mr & Mrs.Dr.B.Aruna,Srinivas garu (Bhadrachalam) arranged lunch,Cake & Sweets to the BRESH children in the event of theirs daughter Chi.VANSHIKA's birthday.
August have been busy month with lot of visitors and some other visitors are Mr.Ashok Kumar garu,DSP, Manuguru.,Mr.Srinivasulu garu,CI, Bhadrachalam visited and Sponsored Lunch ,Sweets and Fruits to the special Students of BRESH in the event of general visit. DSP garu & CI garu appreciated 'Bresh school' management for their efforts in running the NGO with great quality. Mr. Ashok kumar garu participated planted in Haritha Haram at the Bresh.
Independence day celebrations at BRESH:
'Bresh school' students, Staff and Admins has participated very enthusiastically in flag hoisting event.
Mr.A.Srinivasulu garu CI,Bhadrachalam took his valuable time and visited 'BRESH schools' again and distributed sweets and fruits to the children in the event of the Independence day celebration.
In addition to Mr.A.Srinivasulu garu, mechanic works shop owners in Bhadrachalam visited & distributed sweets, fruits and buns to the BRESH children in the event of the Independence day in evening.
The cultural interests are actively maintained at 'BRESH schools' and Bresh deaf & dumb students dance performed at PO,ITDA Bhadrachalam in mid week of August.
Your trust and untiring support is very critical to Bresh Foundation and we look forward to your continued support in future!!