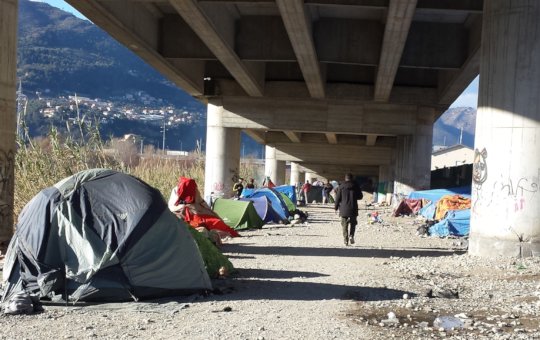 Unfortunately as the bad weather conditions continue, the migrants in Ventimiglia continue to suffer and the web radio is sorely needed. With the funding ending at the end of January 2018, the team in Ventimiglia is questioning how they will continue this important project for the migrants.
Even as the temperatures begin to drop, the Yalla Yalla web radio programming continues without delay or interruption. Now more than ever, the voices of the migrants need to be heard and their needs addressed. The team continues to conduct interviews with various migrants to understand their feelings about Europe, the reception system and the borders. Though they received negative news that they will not be able to set up a network in the Red Cross Camp because the Prefecture declined, the team will continue insisting that a network in the camp is necessary and urgent.
To make the content of the programming more engaging, the team would like to add in games during the broadcasts about Italy and the European Union. The games would allow the migrants to learn more about their basic rights and migration laws in the region in a more entertaining fashion.
"Fortunately I can speak to my family, having a Wi-Fi access is essential for us" – said one migrant, "I like a lot when you put Sudanese music."
The weather conditions in Ventimiglia have begun to worry the team as temperatures can reach freezing during the night and there are around 200 people that temporarily residing under the bridge. The team decided to carry out a survey among the migrants to get feedback on what else they need from the web radio service. The responses from the survey showed that all the migrants camped under the bridge know of the service; the access to internet and to music are the most appreciated services of the web radio; and there is a need for more entertainment on the web radio to keep spirits up in these hard times. Despite external assumptions, the migrants made it clear in these surveys that what they want most right now is community and recreation.
"Please come also tomorrow, we get bored all the day without doing anything," the migrants expressed.
In honor of all of the incredible work this project has accomplished we wanted to share some of the feedback we received from the migrants. We will also be publishing a final report for this project so stay tuned for that!
"Thank you very much! Every day I am awaiting for you so I can chat with my friends and family!"
"I enjoyed a lot this time with you: finally I can openly share what I think with people who care about my situation"
"I love Yalla Yalla radio, I really like listening to music and get in touch with my people!"