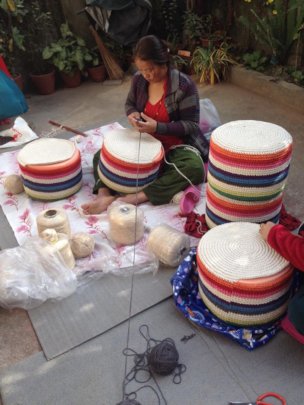 Journey Home Foundation (JHF), under the initiative of promoting women empowerment has been providing various kinds of training opportunities as requested by the girls. This project of weaving was a new initiative to provide a group of young women living in JHF shelter to learn the art of weaving.
For the initial stage of our weaving training, we chose 5 girls from rural areas of Dhading and Gorkha district. When we chose the trainees, they were confused to choose the training they wanted to recieve. So, we introduced them with the weaving training, as one of the main exports of Nepal is handicraft, we thought it would be great for them to learn it. When they first arrived at the shelter, they were not so sure about the project. But, in due course of time with proper orientation and knowledge about the potential of handicraft market they started to feel motivated towards it.
Weaving was not a new concept ot them, as most them were from rural parts of Nepal, weaving was a normal thing to them as they had seen their parents weave sweaters, mufflers from wool and basket etc. from bamboo. So, most of the basic part of the weaving was easy for them to catch up. But, what they were not aware about was the design that is easy to sell in market. This was the area where they were complelety unknown as they had only seen traditional weaving and no colourful designs.
During the 6 month weaving course, they got to learn the basics of weaving knee covers, sitting tools, customized hand bags, socks etc. They were very much happy to share their creation with us. They learned all kinds of decorative weavings, increasing their market fashion knwoledge. They started to produce more and more colourful decorative products effciently with good quality.
Although, the handicrafts made by the trainees were of good quality due to no knowledge of market trends and marketing ideas, they have not been able to sell it in the market. We have been trying to address this problem on behalf of them.
If any one viewing this report wants to help in providing market for their hadn wooven products, please do contact us. It will be of great help for them in their income generation plan and motivate to do more.
Cheers!