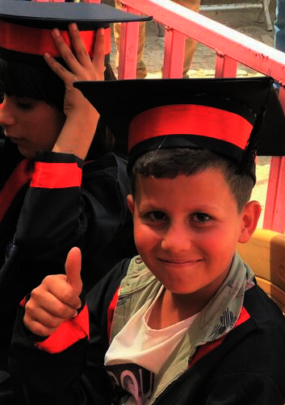 Dear Friends:
What a great October! The Hope Bus had its first graduation! Dignitaries from the Iraqi Ministries of Education, Health, Culture, and Labor and Social Affairs attended along with Iraq's Ambassador for Children, Ms. Zena Qaragholi. The 50 kids who graduated wore graduation caps and gowns, got special certificates, and even some gifts. A face painter made it a very special graduation indeed!
Now a second group of 48 children climbs aboard Hope Bus 1, and 50 more are registered for the brand new "Hope Bus 2."
As 2018 comes to a close, please consider making your final year end gifts to the orphans, street kids, and displaced children of Iraq by supporting "Baghdad Street Lawyers and Hope Buses for Iraqi Kids" All gifts made to our project on GIVING TUESDAY, NOVEMBER 27, will get a 100%+ match! For example, if you give $25, you will get a match for $25 + a second match that could be of any size, depending on how much our project raises that day. So your $25 becomes $50+ for some of Iraq's most vulnerable and at-risk children. Your high impact gifts help kids like Aseel: (name changed for her privacy)
Aseel (13), is the desperately poor daughter of a shepherd. She had never had a chance to go to school until she discovered the Hope Bus where she showed a strong desire to learn. Then she got the opportunity to take the next step to enroll in public school. But all did not go as planned. Aseel came to the Hope Bus weeping, telling the staff that her father wasn't going to let her go to public school. He told her that instead she needed to get married. Immediately, the social workers went to bat for Aseel, intervening on her behalf with the father. At last, success! The social workers convinced him that his daughter was bright, loved to learn, and should have a chance to continue her education. The father relented and Aseel got her dream to continue her studies at public school.
You can see it is quite simple: who would have been there to intervene on 13-year-old Aseel's behalf if you did not support the social workers, teachers, and lawyers who care for these children? Because of you, Aseel has new hope for her future.
For Aseel and so many children like her, we say a huge thanks! On their behalf, please help us get a big match on: GIVING TUESDAY - NOVEMBER 27!
With much gratitude from the ICF team,