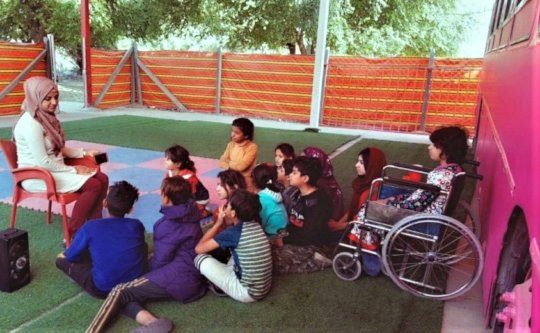 Dear Friends:
Thank you for loving and caring for the Iraqi orphans and street kids we serve! Our hearts are touched when we see them, in turn, giving and helping others. We think you will be proud too!
Take Zainab's story. Zainab* (12) lives in a desperately poor neighborhood and is paralyzed. She cannot walk so she never leaves home. One day, Zainab sent a Hope Bus student on a mission to tell the teachers and staff about her situation. The staff visited Zainab and immediately bought a wheelchair for her. The next order of business was to register her at the Hope Bus so she can attend classes and enjoy lunch and activities with the other kids. When it is time to go home, Zainab is accompanied on her journey home by the other children. Her friends have made possible what so recently had been impossible for her!
This amazing care for other children reminds us of Ahmed,* who brought a large container of milk from the family cow to the Hope Bus one day. Ahmed and his mother make their living by selling milk from their cow but that day, they decided not to sell it but instead donate it to the Hope Bus children. What a sacrificial gift from this poor boy and his family.
And we are reminded of another girl, Mona* who came to the Hope Bus after she was forced to leave school and work on Baghdad's streets. Mona was a smart girl and staff noticed that she would ask for extra notebooks and pens to take home. After repeated requests, staff learned that Mona was gathering six children near her home after class and teaching them what she had learned on the Hope Bus.
And we think of two brothers who behaved badly toward their mother but, after staff taught the children to respect their mothers, the boys changed and began taking home some of their lunch to share with their mother and make her happy.
We hope you take delight in knowing that the kindness and generosity you show to these precious children gets passed on. These vulnerable children thrive on the love and care they receive and then share it with family and friends.
At this special giving time of year, we hope these stories warm your hearts as they have warmed ours!
WIth deepest gratitude,
Cindy
*names changed for privacy