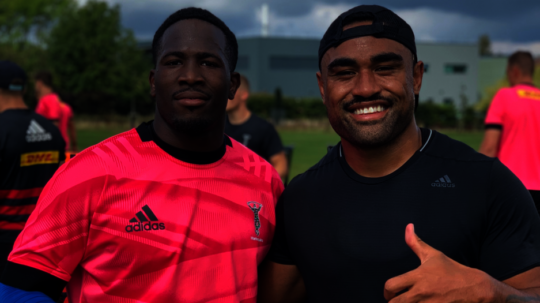 The work of Atlas in the US has been a great success, so much so that we will shortly be starting a US office. We will let you all know about this as it develops.
The project we fund in Memphis is going from strength to strength and expanding beyond its original school to more communities. The original players in the programme are now graduates and giving back to others in their communities.
Back in early September we hosted Shane Young
and
Calvin Gentry
of
Memphis Inner City Rugby
! A big thanks to all at
Harlequins Foundation
for helping host the boys, allowing Calvin to train with the Harlequins 1st XV, meeting his idols in the process and making Calvin feel like part of the first team - all the players were top class and took to him immediately. An experience he'll surely never forget!
It was inspiration to hear them speak about the work they've done with MICR and how it has helped people like Calvin. Even Jonny Wilkinson couldn't captivate a room the way they did! Shane so brilliantly put it to the room that the work Atlas Foundation does is invaluable and many projects wouldn't be able to continue without our help - you can help support this by joining
Front Row Club Rugby
: "Everyone in this room can afford to join for only £10 a year and you should all sign up straight away!"
Thanks also should go to Tristan Aylward from
Ram Rugby
for helping look after the guys and taking them down to Haywards Heath RFC to show them what English grassroots rugby looks like! They certainly found it different and quite the experience!
In other news, our first official Atlas USA fundraiser was postponed until February so we could coincide better with our representatives being in New York and Memphis. It looks set to be an exciting year for Atlas in the US!
From last report:
"Rugby in Israel is not a well known sport, but the focus of this project on peace and reconciliation has made it noteworthy beyond the pitch. Atlas is working with a number of private donors to bring rugby to schools in mixed communities. The values of rugby, with fierce opposition on the pitch, but strong fellowship off the pitch, is an important tool to break down traditional mistrust between different religious and racial groups in the country.
This project started early in 2018 and is now working in four cities across Israel, with twelve schools regularly, and bringing in a further 32 for festivals. These include Jews, Druze, Arabs and Christians; local people and refugees. The early signs are good, and we look forward to our first impact assessment to understand how best to serve the cause of peace in this country.
As with many new rugby projects we use Tags rather than tackles, allowing any child between the ages of 6-12 to experience Rugby without fear of physical contact and without the need for prior technical or physical knowledge or skills.
Our work is currently in Pardes Hana, Tel Mond, Tel Aviv, Ayelet Hasahar, Haifa, Modiin and Rehovot."
For only £1,000 per year, we can add in another school and a further 100 children to the programme.
Our previous Israel Embassy event led to a new team coming together in the USA, led by notably philanthropic individuals with close links to the UK, USA and Jewish communities, thus making a formidable team to lead 'Atlas USA' forward and support further programmes in North and South America as well as projects like this in Israel. We are already planning our first fundraising event and 'inaugration' in New York next February.
For our last impact assessment, our All Schools project in Israel, headed up by the Israeli Rugby Union, managed to help 2800 children in the whole year. Eight hundred (28%) of these kids were helped on a regular basis (i.e. worked with once a week or more). They reported working with 45 schools across the country. We have sent out for an impact assessment for the year 2018-19 and look forward to seeing the results soon.
Thanks to the wonderful generosity of an important philanthropist with interests in the UK and US, we have been given an amazing founding gift for this project.
Vascular dementia happens when there's a problem with the blood supply to an area of your brain, and it can occur following a stroke.
The cells in the affected area of your brain don't get enough oxygen or nutrients and start to die. This leads to symptoms such as concentration problems and personality changes.
Former football and rugby players with dementia six times more likely to have disease linked to repetitive head trauma.
Neuropathologists are becoming increasingly aware of patients with a mixture of dementia pathologies in the wider population, but this typically only occurs in very elderly people. Former rugby and football players assessed in a recent study were relatively young - five first showed symptoms in their fifties and five in their sixties - and so raises the possibility that exposure to head trauma does not just lead to Chronic Traumatic Encephalopathy but to a complex mixture of dementias.
A private fund in the UK will oversee research involving supporters from the rugby world who want to protect their sport, by protecting their people.
WARNING: Javascript is currently disabled or is not available in your browser. GlobalGiving makes extensive use of Javascript and will not function properly with Javascript disabled.
Please enable Javascript
and refresh this page.