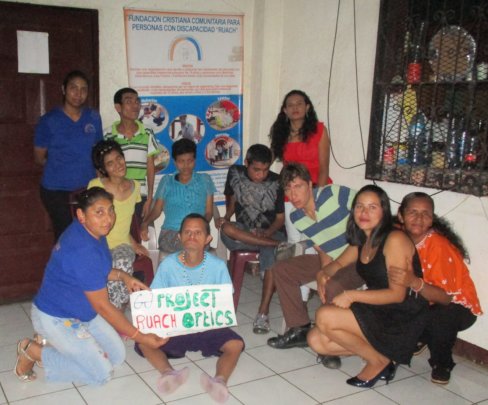 Juigalpa, Chontales

Since 4 years we started the Ruach fundacion to give a worthwhile life to persons with a intellectual disability. We are operated in Juigalpa, Nicaragua.
Not so many years ago, to be a person with disabilities in Nicaragua meant a lifetime of suffering in silence. Often people with disabilities were hidden away from society as they were almost regarded as "less than human beings" that brought shame to the family. Consequently, very few support programs existed to help families to cope with disability.
We need to generate income for the Ruach Foundation (workshops, office, home) to finance its social programs, being an economic alternative for self-sustainability for the RUACH foundation. Becasasuse of that we made a market study and made a proyect to start a popular optics in Juigalpa.
Why Juigalpa?
To open the optic in Juigalpa is because it has 79,581 inhabitants in the city, this is a positive stimulus that reveals a favourable investment. In addition, currently the city of Juigalpa, located northwest of the department of Chontales, in the central region of Nicaragua, has rapid demographic and possibilities of economic growth.
Another reason for this selection is that the department of Chontales includes most of the municipalities with the highest concentration of inhabitants, being these 10 municipalities (Juigalpa, Santo Tomas, Acoyapa, Comalapa, Cuapa, Villa Sandino, La Libertad, Santo Domingo, San Pedro de Lóvago and El Coral).
Juigalpa is a city that functions as an intersection of departmental and municipal road communication, connecting the municipalities of New Guinea, El Rama, Muelle de los Bueyes and El Ayote through land. It also connects the department of Rio San Juan and the entire department of Chontales with the department of Boaco and Managua. Besides, this city is an important transit point that interconnects the Autonomous Region of the South Caribbean Coast, and is therefore immersed in a large commercial movement, both internal and external, that provides easy mobilization.
All of the above has contributed to the increase in demand for diverse products, mainly health related like the need to wear glasses to improve visual conditions. This constitutes an investment opportunity in the services market.
Market research
According to studies conducted by the administrative team of the Foundation RUACH for people with disabilities, in five municipalities (Boaco, Santo Tomas, San Carlos, Rama and New Guinea) in four departments of the country (Boaco, Chontales, Rio San Juan and RACCS), it was verified that 96% are interested, willing and available to purchase lenses in an optician that offers affordable prices, wide variety of frames and lenses according to the needs of customers, vision screenings, among other services that mainly benefit the most disadvantaged.
What havve we done untill now?
We made the proyect in Spanish and English. We looked for people where to send it to, we gave a copy to people near by. We ar sowing and waiting that our effort will be rewarded. Every tip where to send it to, and what to do more, please let us know.
Together we can make a difference. We show it with our social work!
Links: