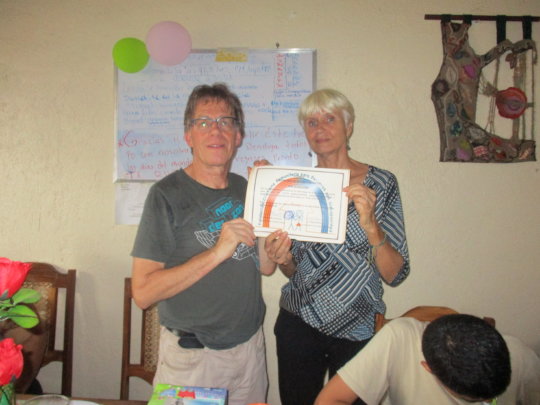 Introduccion
From 30th May until the end of June Rob from the Netherlands has been a guest at Casa Hogar, the Ruach community home. In spite of the disturbed situation in Nicaragua, he was glad he came. He had booked his journey before the turmoil started. And fortunately the political situation did not prevent him from doing what he came for: to spend some time in the community".
Rob
"Let me introduce myself. I am Rob Hennekens (61) and live in Groningen, the Netherlands. I'm a guest at Casa Hogar, the Ruach community home, for three weeks. I arrived on 30th May. The journey from Managua was eventful with lots of barriers on the way as reported in the previous blog. After a few days of getting used to the place, I feel totally at home now. I can converse in Spanish at a basic conversation level. I participate in the running of the household and in the stimulation programme for the residents, using the SonRise method. I'm not an experienced pedagogue, but I've picked up a lot; it's a matter of empathizing, listening and looking. And there are tangible results: I'm getting more and more contact with the residents and I feel included in the community.
The home
The common area is spacious, with a large veranda and a garden at the back with mango trees. As is common here, the roof consists of corrugated iron sheets. It is the mango season, and ripe mangos drop to the ground, ….or onto the sheet-iron roof ,which makes a heck of a lot of noise!. At first I got a fright, thinking I was hearing gunfire. The bedrooms are fairly small, also because the ones on the ground floor and first floor are partitioned to create two sleeping spaces out of one bedroom. I had a choice of two sleeping spaces and opted for the one in the garage. The first night I felt as if I was sleeping under a bridge as there was so much outside noise around, but I soon got used to it.
Routine
The day is tightly scheduled to help the residents function well within a clear structure. Breakfast is at 7am, followed by a contemplation using a bible text or something else; at 9am we sing children's songs; stimulation sessions for the residents start at 10am. After a delicious lunch, the main meal of the day, there are more individual stimulation sessions of 30 minutes each between 2pm and 5.30pm. Evening prayer is at 6pm followed by the evening meal. Within this rigid structure everything happens with a lot of attention, love and complete acceptance.
Extra activities
On my first day we celebrated Mothers Day in the activities centre where the more able compañeros have their afternoon activities. I had brought stroopwafels ( syrup waffles) from the Netherlands, a Dutch delicacy, much liked as people here have a sweet tooth.
I was in Nicaragua once before, in 1985 with the summer brigade in Northern Nicaragua. I was taught a children's song (De Colores) there, which I am now using to teach at Ruach. As singing is my big hobby I've found some other songs that I've been asked to introduce in the 30 minute daily singing slot.
My education background is in architecture and engineering. Last week we had a look at a site where potentially we could construct a new Casa Hogar and maybe the activities centre. Although the plans are still vague at present, I've given the ideas some thought, based on an assessment of the current home, to find what the possibilities and challenges are.
As due to the political situation it is not safe to travel, Astrid, Jonathan and I spent a night away last weekend at the holiday centre Finca Los Angeles, not far outside Juigalpa; a good place to swim, eat and spend the night. It was a nice outing to break the daily routine and to generate new energy for the remainder of my time here.
In spite of the disturbed situation in Nicaragua, I'm glad I came. I'd booked my journey before the turmoil started. Fortunately I'm able to do what I came for: to spend some time in the community. In my contacts here I am learning a lot about myself which is very worthwhile. Differences and judgements disappear, there is no duality. It is giving and receiving. Here I can be who I am".
Volunteers
Rob's visit of course shows that Ruach is open to receiving people who would like to live and work in our community for at least one month. Prior experience in working with intellectually disabled people is not essential, but it is important to be adaptable, curious and eager to experience the different way of living we offer in our community. Basic ability to communicate in Spanish is important. If you are interested or would like to know more, please contact Ruach directly via: ajdelleman@zonnet.nl.