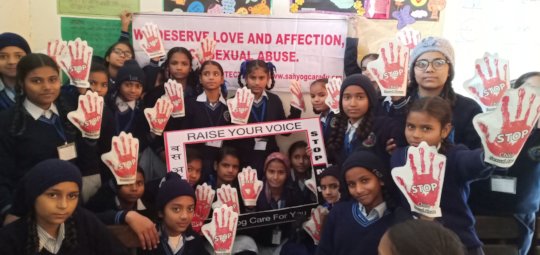 Report of CSA
Organization:- Sahyog Care For You and its Partner NGOs, Duration- 1 July 2019-20 Feb 2020
Child Sexual Abuse
Child Sexual Abuse is serious social evil in our society which affects children life negatively and for long term. 'Sahyog care for you' has been worked on this issuefrom long time in Delhi and other states. Through our session, we aim to make individuals aware about Child Sexual Abuse and provide them with tricks and methods to save one-self from being abused. Our sessions about this topic is extremely detailed and at the same time open which allows the children to freely share their thoughts and emotions. Most of the times, these children come up to us after the session to tell us about themselves as a survivor. We try to provide them with utmost care and support. We provide them sources, Sahyog Helpline Number, Child line Number, to inform about any such activity and help themselves.
Location
No. of Schools/Community/Organization
No. of Children
No. of Teachers
No. of Parents/ Community members
1
Sahyog Care For You
North-West MCD Schools
51
9642
272
2
'Sahyog Care For You' with DCPCR
North MCD Schools
41
3203
82
3
"Sahyog Care for You"
GSKV, Shiv Ram Park, Delhi
1
130
5
4
Sahyog Care For You
West Delhi
31
1118
5
Sahyog Care For You
Delhi
2
32
6
Sahyog Care For You
Remedial Centers, Delhi
9
605
7
Sahyog Care For You
Remedial Centers, Delhi
4
110
8
PRDTI
UP
40
2654
115
9
RUDYA
Maharashtra
36
2834
112
56
10
VISION
Telangana
35
11555
354
367
11
PSS
Oddisha
2
95
8
Total
252
30718
980
3302
In the session (2019-2020), Sahyog care has reached out to 35252 beneficiaries through our more than 350 sessions. There were 30718 children, 980 teachers, and 3302 parents were directly got benefited through these sessions.
After the sessions we had also conducted individual counseling with selected children as well as their parents. Our team also reported five cases of child protection and their rights to DCPCR, DCPU, CWC and concerned police station. In which, there are three cases of POCSO, one case of Child Marriage, One case of child safety.
End