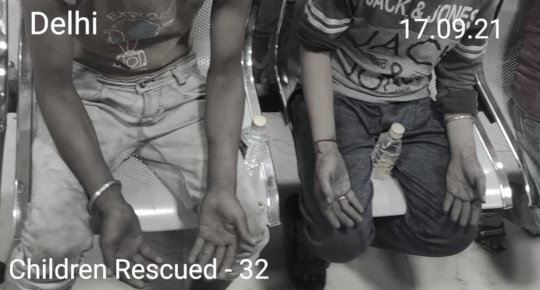 On 17.09.2021 Friday,A tiresome day yet full of accomplishment.....a sense of giving back to the society. SAHYOG care team worked diligently to rescue 32 children from the age group of 6 years to 15 years all from eastern UP and Bihar .These innocent minors worked as bonded labours in a Bio medical waste and Shoe manufacturing unit in nangloi west Delhi for 15 hours a day and got only Rs.125- Rs.150 per day.
They had to crouch on their toes from dawn to dusk which affected their physical and mental growth.
The rescue operation was carried out with the help of SDM Punjabi bagh Ms Gurpreet singh,DCPCR and team from SAHYOG care.With more support from people and government we can revolutionize this country and eradicate this deep rooted evil.
All the children were provided by RTPCR Test , Medical Test , Individual councelling for them and for parents.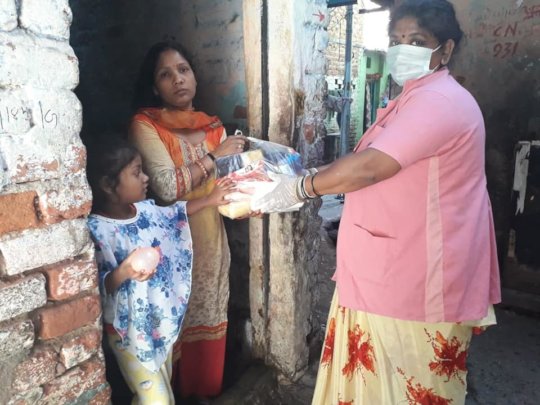 Sahyog Care For You has felt the urgency to intervene to change the scenario. We understood that COVID 19 is dangerous for the country like India where majority of the population is un aware about it and Indian/State Government is seriously looking after to cure the problem through various means like lock down entire country and giving awareness on the issue while as an Non Governmental Organisation we have also to take a responsibility to support the cause with the help of the community people for the community. It is the fact that there is lack of information on the issue and proper requirements for managing situation.
We believe that proper information on hand washing, sanitation, education, crucial for the health of the citizen of India specially rag pickers who are directly contact with the waste. Equipping the rag picker and their families with adequate information and skills on proper hand washing maintaining hygiene and its management helps in empowering them with knowledge which enhances positively impacts on the issue.
The project aim to implement in and around industrial areas of Delhi and clusters where maximum rag pickers are residing especially the area which is most effected i.e. red zone of the CORONA effected area.
We implemented this project in Delhi ( Mundka,Tikri kalan ,Bhalaswa ,Gazipur and Madanpur khaddar). As these area are mainly waste management and landfill sites and ragpickers are staying nearby these sites.
Due to this Pandemic as children are the vulnurable part at this time, the number of children are facing sexual abuse issue hasbeen increased many fold.We are directly in touch with children and their families in the community through our bal panchayat team and providing them telephonic counselling where needed. We are also giving regular session to survivors of Child sexual abuse and provided one months of dry ration to all of them in the second wave of Pandemic in India.Trying to motivate their parents for the vaccination.Taking care of them and giving them mental and emotional support for children and their parents through out this pandemic.Total number of Children taken care is 274 and their families.Our councellors are in regular touch to give every support to them and their families.
One of the survivor thrice hasbeen taken to INBAS mental health hospital Delhi government for treatment by our team members three months back.
One rescue operation with the help of government administration DM, Police, Labour department were done .First in Alipur industrial area Delhi As 25 children were rescued from child labour, trafficking and sexual exploitation.. Only 100 to 200 per day for 12 hours were paid to them . They were bonded labour, trafficked by agent from eastern up or bihar.
We had started doing rehabilitation and approx Rs 142 lacs of back wages has been recovered by employers till now for all the rescues done in this Pandemic . FIR were done .
WARNING: Javascript is currently disabled or is not available in your browser. GlobalGiving makes extensive use of Javascript and will not function properly with Javascript disabled.
Please enable Javascript
and refresh this page.