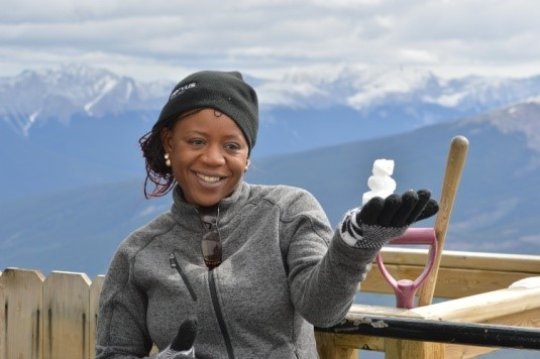 Chisomo just had the experience of her life, flying halfway around the world this summer to learn from Canadian mentors how to tackle the challenges she faces as a woman leader in the world of financial co-operatives. Chisomo manages the Kawale Branch of Fincoop Savings and Credit Co-operative (SACCO) in Malawi. First time away from home. First flight to another country. First time meeting women managers from other nations. First walk in the Rocky Mountains. First time feeling this empowered!
She's one of 217 women graduates of a unique leadership program that is tailor made for women managers of co-operative financial institutions in developing countries. Since 2002, the Women's Mentorship Program has helped women in 19 countries discover new personal and professional confidence and career momentum through mentorship by Canadian women credit union leaders.
Chisomo's mentors, Debbie Neddow and Gail Lekas at the Servus Credit Union branches in Edmonton and Red Deer, Alberta, say the program changes lives. "Despite our differences, as women managers we speak the same language and share the same hopes," says Debbie. "The benefits of mentoring definitely flow both ways."
Since returning to Malawi, Chisomo has made changes that are bringing financial services to more people in need. Most importantly, Chisomo is mentoring and coaching others in her workplace, giving them the confidence she gained through her own mentorship. "I am taking more initiative and bringing forward new ideas to make our community service grow," she says.
Your donation means that more women like Chisomo can take part in our Women's Mentorship Program; training in their home countries of Malawi and Mongolia, to become more effective managers and leaders.