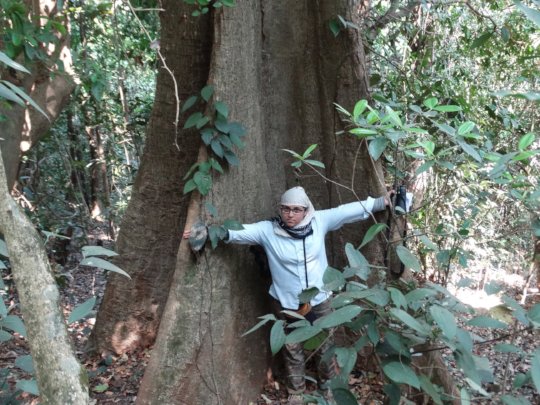 Dear Supporter,
While we mapped many giant trees to understand biodiversity associated with them , reasons behind their current conservation status and threats posed to their survival in the quarter gone by. what has struck us the most is the interdependence between a giant tree and big frugivorous birds such as hornbills.
The botanical name of this giant tree is Antiaris toxicaria that we came across during our survey in village Devole ghera Prachitgad in Sangameshwar block of Ratnagiri district. Antiaris toxicaria is large tree sparsly distributed in the Western Ghats biodiversity hotspot. This tree has also been recorded in African countries such as Uganda and in South East Asia.
It is believed that leaves, bark and seeds of this tree are toxic so much so that people sleeping under the tree had experienced congestion in their chest. Similarly, some tribes used paste of leaves for hunting birds in South east Asia. Recent discoveries in medicine have provided evidence for the use of its seeds for treatment of diabetes.
As regards the ecology of this tree, it is an emergent tree that means it competes for light and reaches the canopy very fast in a forest and can grow upto 50 meters. Thus it provides the necessary landing space for big birds and also allow lot of shade loving plants to grow under the canopy. In other words, this tree creates an ecosystem around itself once it reaches its optimal growth stage. The less known and very important part of the story is dependence of this tree on frugivorus birds chiefly Hornbills for its survival. We have documented that fruits of this tree are savoured by all the four species of Hornbills found in the Western Ghats- Indian gray hornbill, Malabar pied hornbill, Malabar grey hornbill and Great hornbill.
We were quite fortunate to photo document all the four hornbills on this particular tree during the fruiting season this year. These birds consume the flesh of the fruits and disperse the seeds as wide as possible depending on the home range in the surrounding landscape. We have noted the saplings of this tree under the nesting site of Great hornbill at one of the locations about 15 Kms from the tree. That establishes this beautiful relationship and mutually supportive co-existence of both the species.
What is little bit surprising is that there is no mention of this tree as an important source of food for hornbills in scientific literature for India. This once again underlines the importance of on the ground conservation work for saving the giant trees in this case in filling this critical knowledge gap.
We are now in process of rewarding the community members for conserving this magnificient giant tree.
We believe that you will enjoy reading this story and also the photos taken of the tree and the charismatic birds attached to this report.
We would like to thank you all once again for your continued interest in and support to the giant trees conservation campaign.
Best regards