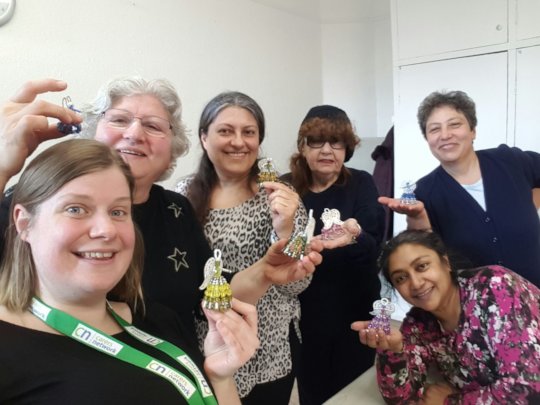 The H&F Time Bank has kicked off with a craft-tastic start to the year with members attending and giving workshops, and a chance to visit the Knitting and Stitching Show at Olympia London.
Combining craft and well-being, in February members had an opportunity to make an eye-pillow, a restful mask that encourages relaxation and better sleep, under the guidance of trainer and certified nutritionist Emma.
Taking up needle and thread (in some cases for the first time in quite a while), members successfully sewed their own lavender-scented pillows, quite a feat in under 2 hours!
What members said:
"Emma was very patient and instructive"
"I thoroughly enjoyed this activity"
"very therapeutic."
Inspired to take the next step, in March Time Bank member Marzyeh took the plunge and prepared her own workshop for members.
Carefully prepared and teaching with humour and clarity, Marzyeh showed fellow members how to make a beautiful beaded angel decoration.
Her students were delighted with their creations, and Marzyeh herself said that teaching a group was a new experience she wouldn't have had the confidence or the chance to try without the Time Bank.
What members said:
"Enjoyable"
"Creative"
"An opportunity to challenge myself."
Finally, despite the Beast from the East causing snowy disruption across London, members had the opportunity to visit the Kensington Olympia Knitting and Stitching Show at the beginning of March.
The Time Bank Monthly Meet-up runs on the Third Wednesday of the month at Bishop Creighton House, from 11:45am–1:45pm.
The activities and workshops put on are based on members' suggestions and skills, and members are encouraged to get involved if they have ideas or interests they would like to share.