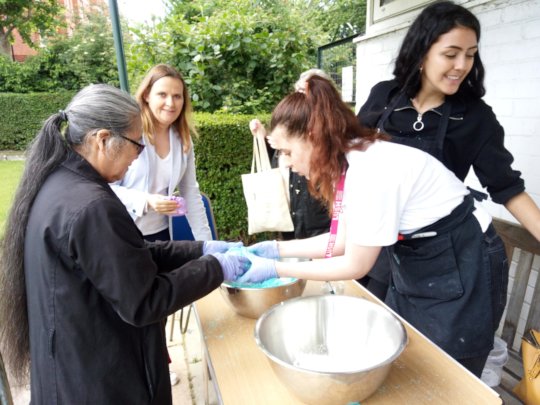 Each year Carers Network arranges a programme of activities for local carers to coincide with Carers Week.
This is the UK's annual campaign to raise awareness of caring, highlighting the challenges carers face and recognising the contribution they make to society.
This year, Carers Week 2019 ran from 10-16 June. During the week Carers Network ran events and activities including trips for carers to the Houses of Parliament, St Paul's Cathedral, Chelsea FC, Chelsea Physic Gardens, Kew Gardens, The Royal Mews at Buckingham Palace, Chiswick House, Bush Theatre, Fulham Palace and The Royal Court Theatre.
The week culminated with a Carers Festival at Paddington Recreation Ground on Friday 14 June
The theme for Carers Week was 'Getting Carers Connected', and this event brought over 40 carers together to celebrate their skills and talents with each other – while also giving them the opportunity to take part in health and wellbeing activities.
Creative carers displayed their handiwork at the event and carers also had the opportunity to join in fun activities – including a dance class delivered by a fellow local carer.
Amongst other things, carers were also able to share their poetry and creative writing together in a self-facilitated group.
A carer who displayed their artwork at the festival commented after the event:
"One of the carers liked my work so much he put it on Instagram which was wonderful giving me the confidence to get a stall to sell them in the future. The mindfulness session in a leafy glade was absolutely amazing. I met a wonderful group of people including some mothers of students in a school I used to work in. All in all a fabulous day."
Activities such as these can help carers feel less socially isolated and help build their self-confidence, while also enabling them to take a well-earned break from their caring role,
By generously supporting this campaign we will be able to offer even more carers the opportunity to enjoy and benefit from similar activities in the future.