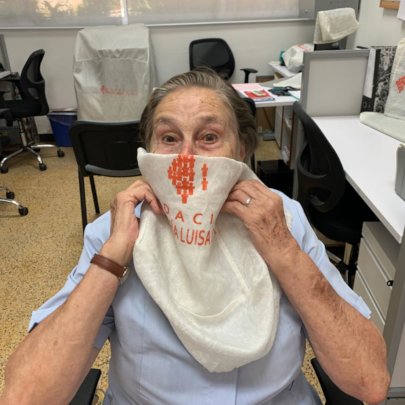 Versión en Español/ Spanish Version
¡SÍ! ESTAS AYUDANDO DURANTE EL COVID-19
Queremos compartir con nuestros benefactores las acciones que la Fundación Madre María Luisa Casar ha realizado para continuar apoyando responsablemente a la comunidad que hace vida en el Colegio Jenaro Aguirre Elorriaga; desde el cierre de la institución educativa, comedor escolar y ambulatorio médico como medidas de seguridad tomadas para evitar la propagación del COVID-19, el cual llegó oficialmente a Venezuela a mediados de Marzo 2020.
Todas estas acciones han sido posible gracias a tu valioso aporte que nos permite continuar nuestro compromiso social.
EDUCACIÓN: ¿Cómo continuamos educando con el colegio cerrado?
Creando vías de comunicación:
2. Envío guías de trabajo – útiles escolares – Recarga Celular:
Útiles escolares:

Entrega de útiles escolares a los alumnos que lo necesitaban para completar sus guías de trabajo: lápices, hojas, borra, colores, cuadernos, sacapuntas, plastilina, regla.
ALIMENTACION: ¿Cómo continuamos apoyando la alimentación de nuestros alumnos y personal con el comedor cerrado, en este momento que los ingresos económicos de las familias han disminuido de manera importante y existe una devaluación acelerada de la moneda?
Entrega de bolsas de comida:

Entrega de 330-350 bolsas de comidas las cuales contienen alimentos como: caraotas, arroz, harina, leche, pasta y lentejas.

Entrega de suplemento alimenticio – 15 alumnos en riesgo de desnutrición:

Se le entrega a los 15 alumnos que están en situación de riesgo de desnutrición el suplemento alimenticio con las indicaciones a seguir.
SALUD: ¿Cómo continuamos velando por la salud física y emocional de nuestros alumnos, profesores, personal administrativo y obrero y familias de la comunidad del 24 de Marzo cuando el ambulatorio esta cerrado?
Comunicación telefónica constante:

Los médicos del ambulatorio se han comunicado vía telefónica y mensajes de texto con sus pacientes y familias jenarianas para:
Hacerles seguimiento, saber cómo se sienten, que expresen y manifiesten sus preocupaciones.

Informar sobre que es el COVID-19, medidas de prevención, medidas de seguridad a tomar y en caso de contagio a donde dirigirse y como actuar.
2. Entrega de artículos de higiene: Se van a incluir artículos de higienes para prevenir el COVID-19 (jabón de cuerpo, jabón para lavar, alcohol), junto con las bolsas de comida.
3. Información: La Psicóloga y la Doctora del Ambulatorio de la escuela envían información a través de infografías sobre como cuidarse en estos momentos de pandemia y dando consejos de cómo educar desde casa.
TRANSPORTE – LOGÍSTICA ENTREGA: ¿Cómo realizamos las entregas de las bolsas de comida, artículos de higiene y útiles escolares?
Transporte:

Contratación de un transporte de la zona que lleva los insumos ya organizados en bolsas y por grupos de entrega, desde la Fundación hasta la escuela.Buscamos maximizar el uso del transporte debido a que hay dificultad para conseguir gasolina y el costo puede ser elevado.
Logística de Entrega:

Entre el equipo de la Fundación MMLC, el personal de la escuela y el apoyo de la comunidad del 24 de Marzo se ha elaborado un plan que aspira una entrega bimensual de una bolsa de comida y artículos de higiene por familia y de útiles escolares a los alumnos que lo necesiten. Esta entrega tiene las siguientes reglamentos:
- Cumplimiento de un estricto horario de entrega por salón para prevenir aglomeraciones.
- Control y registro de las entregas
- Cumplimiento de las medidas de seguridad como uso de tapabocas, guantes ydistanciamiento social
English Version / Versión en Inglés
YES! YOU ARE HELPING DURING COVID-19
We would like to share with our benefactors the actions that the Madre María Luisa Casar Foundation has carried out to responsibly continue supporting the community that lives in the Jenaro Aguirre Elorriaga School; amid the clousure of the school, dining room and the medical clinic as security measures to avoid the spread of COVID-19, which officially appeared in Venezuela in mid-March 2020.
All of these actions have been made possible thanks to your valuable contribution that allows us to continue our social commitment.
EDUCATION: How do we continue teaching with the school closed?
1. Creating communication paths:
• Creating WhatsApp Group Chats for each classroom: Each grade level teacher has created a WhatsApp group chat with the parents and guardians of each of their students, through which information is sent and received.
• Landline phone calls: For those who do not have a mobile phone, the teachers contact the families through their landlines.
• Social Networks: The school has a Facebook Fan Page, which we know many in our community use and are familiar with.
2. Sending work guides - school supplies - Cellular Recharge:
• Work guides: Each teacher has prepared work guides for their students which are sent every 15 days, using the communication channels described above.
• School supplies: Delivery of school supplies to students who need them to complete their work guides: pencils, sheets, erasers, colors, notebooks, pencil sharpeners, rulers, play dough.
• Prepaid Cellphone Recharge: A strategy has been developed to recharge teachers' prepaid cellphone plans so that they can maintain contact with the students via WhastApp.
FOOD: How do we continue feeding of our students and staff with the dining room closed? During this time when the community's income has decreased significantly and there is an accelerated devaluation of the Venezuelan currency?
1. Food bag deliveries: Delivery of 330-350 bags containing food, such as: beans, rice, flour, milk, pasta and lentils.
2. Delivery of food supplement - 15 students at risk of malnutrition: The 15 students who are at risk of malnutrition are given the food supplement with the instructions to follow.
HEALTH: How do we continue to ensure the physical and emotional health of our students, teachers, administrative and maintenance staff, and families in the 24 de Marzo community when the clinic is closed?
1. Through constant telephone communication: The doctors at the outpatient clinic have communicated via telephone and text messages with their patients and families to
• Follow up, find out how they feel, encouraging them to express and voice their concerns.
• Informing them about COVID-19 prevention measures, the safety measures to take and what to do in case they contract the COVID-19 virus.
2. Delivery of personal hygiene articles: Personal hygiene articles that are essential to prevent COVID-19 (body wash, washing soap, alcohol) will be delivered, along with the bags of food.
3. Information: The school's Psychologist and Doctor from the Outpatient Clinic send information through infographics on how to take care of yourself in these times of pandemic and give advice on how to do home schooling.
TRANSPORTATION - LOGISTICS DELIVERY: How do we deliver the bags of food, personal hygiene articles and school supplies?
• Transport: We have hired a transport company from the area that takes the items pre-arranged in bags and by delivery groups, from the Foundation to the school. We seek to maximize the use of transportation because there is a shortage of gasoline and the prices can be steep.
• Delivery Logistics: Between the MMLC Foundation team, the school staff and the 24 de Marzo community support a plan has been developed that aims at a bi-monthly delivery of food and personal hygiene items per family as well as school supplies to students in need. This delivery has to comply with the following regulations:
• Follow and keep a strict delivery schedule per classroom group to allow social distancing.
• Maintain oversight and register of deliveries
• Compliance with safety measures such as use of facial mask, gloves and maintaining social distancing.