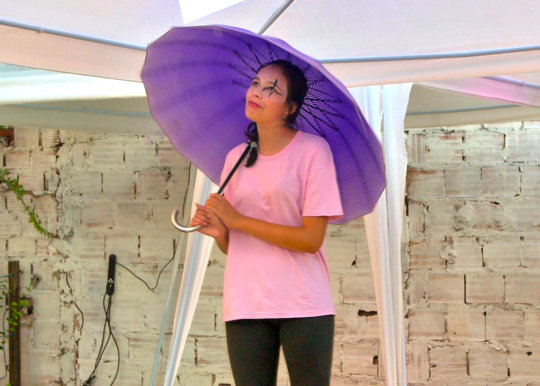 Dear Viva a Vida Friends and Supporters!
Since our last report, we have largely been focusing on reports, evaluations, planning and target setting. You can find the Portuguese version of our Annual Report on our website, a summary version in English will follow soon.
In the meantime, we wanted to share with you a very poetic text written by Ana Clara, who's 17 and involved in both the V2 Theater Group and the Vila Jovem Youth Group. In the text, Ana Clara tells an imaginary stranger how she feels about being on stage:
Dear Somebody, once they asked me what my dream was, then I thought, and thought and thought a little bit more, but in the end I didn't know what to say, not for lack of dreams, but because of the immense number that I have. I am overflowing with dreams, I am overflowing in my smile, my look, my words, my soul, and particularly on the stage.
On the stage we are free spirits, with dreams to give and sell, but we don't sell these dreams for money, we sell them for laughter, feelings and emotions. The stage is my origin, the stage is my house, my safe harbor, I am a bird flying over skies and other things. Away from it I feel empty, incomplete. Perhaps my greatest dream, dear somebody, is to sell dreams, to sell them through my art, my texts, my music and poetry.
Sincerely, from somebody else.
Ana Clara joined the group four years ago, having (unwillingly!) moved with her family from the south of Brazil to the state of Bahia. This is what she has to say about her experiences:
Joining the theater group helped me a lot, I didn't want to know about anything else, the theater made me accept Bahia… What motivates me to stay are the people, the NGO, everything here has been so important... because it changed what I am, it taught me what I can be. I feel very happy at Viva a Vida, I feel good, sometimes when I have a problem, I run over here, this is my safe haven. Here, people can be what they want to be, here I can be myself, here I lost half my shyness. This has helped me in several ways, before, if I fell over in the street, I would want to hide my head in a hole, I would be so embarrassed, now I just laugh at things.
If I hadn't learnt what I have learnt at Viva a Vida I wouldn't have any friends at school, because I didn't know how to approach people. At home, I didn't talk to my family, today I talk more, but talk back less (laughs). I am already thinking of several things for university: performing arts, cinema or audio-visual arts to direct plays or studying letters. This is because of the influence and my love of theater.
Congratulations to Ana Clara for her very powerful and moving words!
Another achievement during this period was our presentation to high school teachers at their Annual Planning Day. Vinicius, one of our long-term participants, joined us in setting out our 2017 plans for school-based Human Rights workshops and other activities. Vinicius led the group activities and presented the monologue he has written, which addresses mental health issues. We were particularly struck by what the teachers had to say about the positive impact of Viva a Vida's work on their students and how they can tell which of their students are participating in our activities because of their improved attitudes and behavior. They have seen these students develop critical thinking, improve their self-esteem and learn to respect differences.
Our team and young participants ran some community-based activities in January and February, all thanks to YOUR donations. Here's a brief summary:
The Vila Jovem Youth Group continued their poetry meetings and worked on editing their video about Vila de Abrantes. They have since presented this to:
20 young members of a local capoeira group (see attached photo)
80 high school students at CEVA, the local high school
8 outpatients at the local Psychosocial (Mental Health) Center
The V2 Theater Group ran a fantastic open seminar to present one of their most important references, Augusto Boal of Theater for the Oppressed, to the community. The young people discussed his theories and practices and then used some of these techniques to interact with the 13 community invitees.
The Centre for Psychosocial Care for Drugs and Alcohol in the city of Camaçari ran a lively "Carnival Shout Out" for 40 of their services users, families and community members, in order to publicize their services, integrate the center with the local community and celebrate Carnival. The V2 Theatre Group lit up the event with a presentation of Ana Clara's monologue and other activities.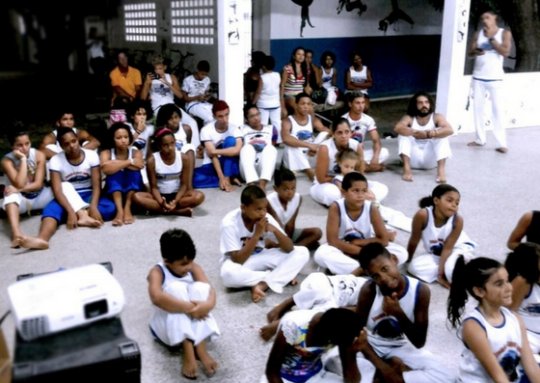 Links: