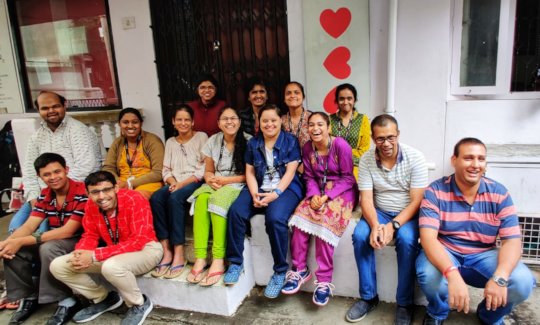 Dear Friend, You subscribed to email updates from Empower Intellectually Disabled with Technology by AMBA, a project on GlobalGiving.
AMBA is an Ashoka Fellow driven Social Enterprise, a registered Trust since 2004 with 12A and 80G Tax exemptions. We are also Registered under Foreign Contribution (Regulation) Act, 2010 (FCRA – 094421635). AMBA is empanelled under the NITI AAYOG's NGO Darpan Portal (Darpan Unique ID - KA/2016/0099312).
AMBA over the years has within collaborations with Special Institutions, has set up 475 hubs for Alternate Learning leading to Employment for adults with moderate to severe intellectual disability across 25 states in India. 80% are from Rural India. 37% of our work force are now women.
AMBA curriculum with Copyright© status Pan India, is adaptive, visual and functional using the computer as a tool to enable back end services, meeting Service Level Agreement ((SLA) of the Client. The process of fine tuning the curriculum, has evolved so many one of its kind processes, that have added huge value, to indirectly mainstreaming this community.
Challenges with work post Global Automation is still a struggle and we invite Individuals and Private Sector Organisations from India and Overseas to come forward to help us generate more opportunities of work to match the scale of Training. In the Financial Year 2019-20, 105 ACPCs (AMBA Certified Partner Centres) are scheduled to start Live work. 83 ACPC's from Rural Indiawhere bringing employment in general is challenging.
We have the Business to enable economic empowerment and employment to 20 beneficiaries in each ACPC, while helping the ACPC become a hub for Learning, Employment and Scale within the ACPC. We need Annual Funding in continuity to enable training and employment using ICT, the computer and Peer driven processes.
The cost per beneficiary is just Rs. 27,000/- all the way into work to include the laptop, training and monitoring using ICT and physically visiting and abetting progress.
Better internet connectivity to 80% of the AMBA partnerships in small towns and villages to abet productivity. Dongles are core productive than wired connectivity in most places Back end jobs from the Telecommunications, Banking, Passport, Insurance sectors to the AMBA Core Center in Bangalore to route work to the AMBA Certified Partnerships across India.
AMBA also invites similar partnerships for Funding to AMBA Core Center for the next three financial Years 2020-2023. Approximately summing up to INR 10 crores…to abet our ACPCs in scale.
A residential solution in the parents' lifetime. We really need support to enable scale in continuity, to enable a movement to ensure scale even beyond us:
https://www.youtube.com/watch?time_continue=4&v=gnh_ukv_SSg gives you a visual of how we use Peers at the AMBA HQ, Bangalore and the Team viewer to access the peers in the AMBA Certified Partnerships across India, to start work training for them.
The Social impact in giving them the dignity of becoming contributors to their home and Society is amazing to witness.