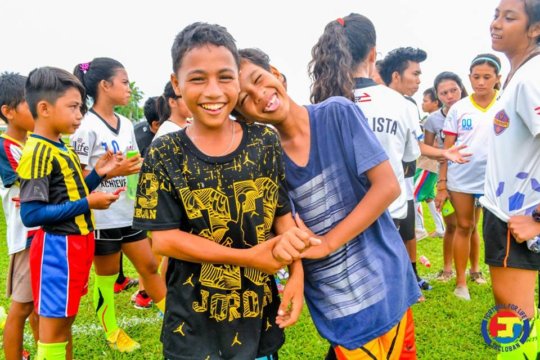 Dear Supporter,
Greetings from the Philippines!

Firstly, thank you to our existing supporters for the continuous support of the "Football for Life Academy" project! And a welcome to our new supporters receving our update for the first time - your trust and commitment is invalable to our progress!
We are excited to share with you some news and recent developments that have happened between May - August 2017. If you would like to see additional information on our work, we strongly encourage that you visit www.fundlife.org/news and like our FundLife Facebook page and our F4L Facebook Page!

Before then, we hope you will enjoy reading about our latest round of big achievements - Enjoy;

San Joaquin Football Festival 2017
On 29-30 April 2017, Football for Life took part in the San Joaquin Football Festival organized by the San Joaquin FC in San Joaquin Elementary School in Palo Leyte. Altogether, F4L entered six teams under the U13 Mix, U15 Boys, and U17 Girls categories, with players chosen from 9 the sites we handle across Tacloban. Opportunities were given to those who showed outstanding performance, but more importantly, commitment to attending our regular sessions and activities. For a full write-up and lots of pictures, please click here.
UNITY AND OPPORTUNITY || 6th Sama-Sama Games
"We are all one."

This is the main message FundLife International aims to deliver in its annual football event, the Sama-Sama Games. Now on its 6th year of celebrating unity through diversity, the games specifically targeted to give opportunities to players from disadvantaged communities. It took place in Tacloban City on 24 June for the U12 Mixed, U14 Boys, and U17 Girls Categories, and on 01 July 2017 for the Men's and Women's Open Categories.
This year, FundLife International partnered with Globe Telecom Inc. (Republika ng TM), to organize the event, in conjunction with their programme TM Football Para Sa Bayan (FPSB), which also aims to deliver and use football as a tool to empower underprivileged youth. They are also in search of two young players - a boy and a girl from the U12 and U14 categories – from across the Philippines to send to Malaysia for an Advanced Football Training Programme, in partnership with Malaysian counterpart, Astro Malaysia.
In total, over 100 F4L players were given a chance to play in this marque event at one of Tacloban's premier sporting venues. You can watch a special event video here or read the complete write up here.
FundLife International Signs Partnership with the Department of Education!
Off-the-field, there were also significant developments, as FundLife signed an MOU with DepEd to work with underfunded schools in Region 8. The partnership with DepEd will allow FundLife to deliver its highly specialized and award-winning Football for Life (F4L) programme across public schools in Leyte. F4L is an informal and experiential learning programme that combines football and positive values formation to support junior high-school students to achieve both football and education excellence. It is completely unique, wherein it uses football as a tool for sporting, and for personal and educational development. You can read the full article here.


FundLife International Joins AYLA-Leyte for Project Bisog!
FundLife International joins AYLA-PH Leyte's Project Bisog in promoting awareness in HIV infection and prevention thru an educational football session last June 10, 2017 in Brgy. 97 covered court. Project Bisog is a community-based, family-oriented health program promoting adolescent sexual and reproductive health focusing on HIV prevention.
FundLife International helped establish AYLA-PH Leyte thru its Going Places program last May 2016. The program capacitated the pioneering members of the local chapter through various activities such as community immersions, skills development workshop, and advocacy setting sessions. Since its establishment, FundLife continues to support AYLA-PH Leyte by linking the organization to various opportunities and providing assistance to its programs, especially Project Bisog. ~

For more of Project Bisog, visit facebook.com/projectbisog or view the complete article here.
These are just some of the highlights in recent months as we continue to work with over 500 children each week. Ahead of us lies challenging and exciting times as we continue to develop and deliver our curriculum across public schools.
We look forward to sending you the next update in a few months and thank you once again for your continued support and trust!