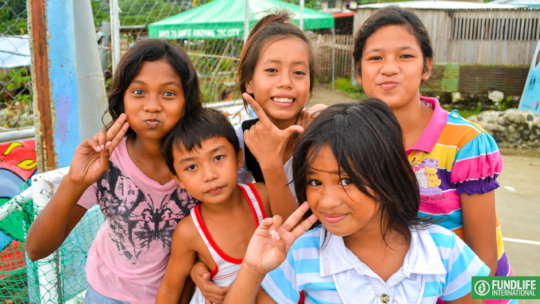 5 Years Since Haiyan: We Need to Do More

Dear FFLA friend,
Greetings from the Philippines!
November 8 marked the 5th anniversary of the world's strongest storm, Typhoon Haiyan. For the many who were in the Philippines on that day, it is a date that we will never forget. Manila was dark, tress swayed violently as the rain fell. It was adverse, but nothing that prepared us for what was happening in Eastern Visayas. The destruction Haiyan left behind was horrific; over 7,000 deaths, 16 million affected and over 1 million houses destroyed. Today, over 5,000 families who lost homes still wait to be rehoused and replaced. As Jack Sim would say, 'bureaucrazy'!

On November 8 five years ago FundLife did not exist. We were nothing but a vision to champion greater opportunities and education for the hundreds of thousand children living in the slums of Manila. That day changed everything. We suddenly became naïve experts. For a brief moment, as is true for any global calamity, the world cared. Tacloban and other affected areas were given unprecedented financial aid. All too often, this aid never reached the communities, never gave agency to those who continue to rebuild their own lives. Never offered anything more than brief respite.

Five years on, long after the media and the international NGO's left, FundLife is still in those very communities. We have seen what is possible when we invest in children, in communities, in educational opportunity. When we remove politics. We hope that we are able to learn from the devastation of Haiyan, and ensure we do better. We must change the way we respond and how we account for aid.

When we learn how to give agency, local organisations far better than FundLife can change the entire landscape of their communities. But they need opportunity – not aid. Five years after we started; our work is just beginning. Dreams are just starting to be cultivated – and these dreamers are no longer just the dreams of Haiyan Survivors – they are the dreams of the forgotten. Today we remember – not only those who lost so much five years ago, but also those who continue suffer every single day as we idle by.

But more than remember, we must act – if we do not, who will.
FundLife collaborates with Genesis Project from Bosnia and Herzegovina (BiH)
FundLife programme director, Marko Kasic and former Arsenal in the Community Coach, Etienne Digout, visited BiH to conduct a seminar organised by Genesis to promote the use of "football and play" as a tool for inclusivity and peace building. The seminar, to foster and promote positive role models through sport, was delivered to 12 female and 12 male school children and 16 educators from across Central BiH.
Taking place in mountainous town of Jahorina (one of the venues used in the Sarajevo 84' Winter Olympics), the seminar included the introduction of football 3 methodology to school children instructing them how football can be used to promote gender equity, inclusivity, respect and fair play. Read more about the newly acquired partnership here!
Partnership with Giuseppe Football Club in action
In early August we reported that a new partnership had come to force – between FundLife and Giuseppe Football Club. We are happy to follow up on this on conclude that the partnership has been developed as strongly as we had hoped for!
To achieve our mutual goal, both GFC and FundLife came up with the Girls Community League to identify girls' teams, whether they are playing football or futsal, and see how they can help them. Currently, GFC and FundLife are holding a futsal training program at the Sisters of Mary School Girlstown in the city of Talisay, Cebu, after finding out that they have a team but has not yet received formal training. Catch more details on this exciting project here.
FundLife participates in the Coaches Across Continents – Gawad Kalinga joint programme
FundLife and Coaches Across Continents (CAC) partnership goes way back – our CAC friends have come to the Philippines several times to conduct intensive trainings on football4good for our coaches. Today, we have grown our competence to a level when we can participate in CAC outreach programmes as equal partners. What more to aspire for!
Recently, our Community Impact Coach, Robelyn Villas, took part in a joint CAC-Gawad Kalinga programme. Read the wonderful story about her experience of working with Coaches Across Continents On-Field in the Philippines with CAC Community Partner, Gawad Kalinga, after the already exciting adventure of the FIFA Football for Hope Festival in Russia this Summer of 2018 in partnership with the World Cup!
Preparation for annual Sama-Sama Games is in full swing
In early December we are hosting our annual Sama-Sama Games in the City of Cebu. This will be the 8th event so far and it has been evolved a lot over this time period, however the main idea of the Games has remained unchanged: once a year we come together to celebrate unity and opportunity. This year, it is organized with the great support of Generation Amazing who share the same vision with us. Stay tuned for more information on how it goes!
Truly yours,
FundLife Team