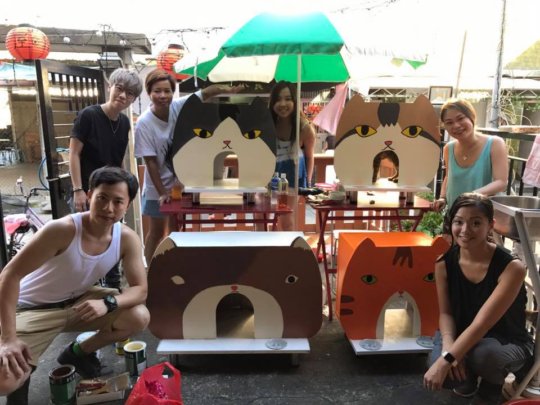 Finally, we finished to build feeding boxes and road signs, I would like to say thank you for all helpers and volunteers to participate and finalized the project; this project couldn't complete without them.
For this project, we had carpenter (Mr. Lam) and illustrator (Miss Ip) to teach all the helpers and volunteers to prepare materials to build feeding boxes and road signs, such as cutting wood, painting, designing, drawing, etc. In my opinion, it was such a great and successful event.
Before placing those feeding boxes and road signs to the designated area for stray cats; we placed some feeding boxes and road signs outside of Tai O Stray Cat Home campus temporary, turned out we had very good feedback and comments, and also many tourists took pictures on those feeding boxes and road signs. More than that, one of the local café chains on Lantau Island (after renovation) uses the feeding boxes pictures for its decoration.
Besides, those road signs message, such as no flashlight, no human food, keep quiet, spread positive effects because people become more alert to how to treat stray cats and follow those road signs instruction.
Through this project, we can fulfill our intention to let more people to understand stray animals (cats, dogs, etc.) need to be respected and loved; and make people know that stray animals are also part of the community.