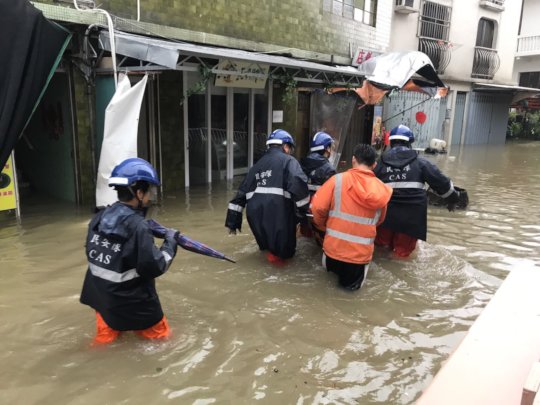 There were many things happened in the past few months in Tai O, it had been hit hard by several typhoons; many house cats were abandoned by their owners, many stray or house cats were bitten by dogs (not sure whether they are strays or house dogs) and died, and so on.
Tai O was affected by several typhoons in the 3rd and 4th quarters of 2017 (Typhoon pic-1,2,3), but with the help of the government and the local residents; everything is back to normal now.
In the mid of November, seven-month old kitten (Home cat-1) was given by an old lady to Tai O Stray Cat Home. She told German that this kitten was picked up from the street by her granddaughter, but they didn't want to keep this kitten after a few months.
German feel sorry for this kitten, she thought how come this family is so irresponsible, this kitten is not a toy; they need to treat him as their family member. Anyway, this kitten is taking care by Tai O Stray Cat Home now, not sure he is a permanent resident in Tai O Stray Cat Home or German will find him a new adopter.
After a few days, another domestic cat, yellowish white cat, (Home cat-2) was abandoned to Tai O Stray Cat Home, German called him as Didi. Until now, he is still scared of other people. For sure, it is not easy for him (Didi) to adapt to the new environment, but maybe better than stay on the street and then will be killed by dogs.
In German's opinion, she is fortunate to be born in Tai O. Although she does face a lot of challenges and deal with endless tough works, but she does have some times to rest and enjoy such a nice environment and neighbour (Pic – Tai O).