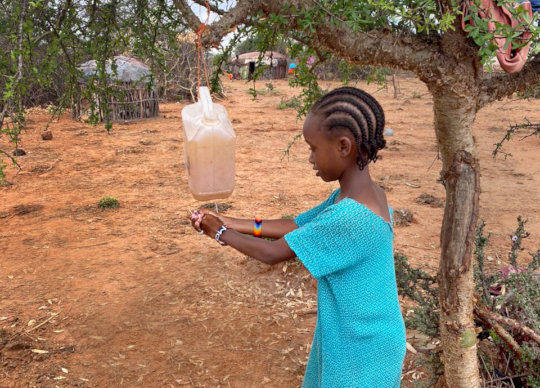 Dear GlobalGiving Friends:
Please know we are keeping the health and wellbeing of you and your loved ones in our thoughts during these challenging times.
As we previously shared, the global COVID-19 pandemic declared in March necessitated nearly a wholesale redesign of TYTW programming in order to properly meet the unique and urgent needs of our beneficiaries. While the football/soccer program is temporarily paused due to continuing national quarantine in Kenya, the support of generous donors like you helped provide vital health and protection resources to vulnerable girls and their communities.
TYTW, in collaboration with our ground partner Samburu Girls Foundation (SGF), conducted the first round of 104 home visits in three counties for the most vulnerable of the 330 quarantined girls at their respective homes, narrowly preventing several girls from being cut or married off. For at least 5 of the girls (as young as 10 years of age), TYTW's field team successfully intercepted family plans for FGM or child marriage during the first round of visits. For those not able to return to their communities due to threat of violence, 25 girls were placed in alternative-stay arrangements and TYTW will continue to closely monitor them in order to ensure their ongoing safety.
TYTW enacted immediate health measures as well, distributing 1,040 sanitary towels, 208 educational flyers, 55 gallons of handwashing soap, and setting up 104 handwashing stations. TYTW also proudly funded an emergency motorbike purchase for SGF, helping to save the organization countless funds on vehicle rentals, while significantly increasing their transportation capacity to respond to urgent safety situations and needs that arise. We had reports of about 18 girls requiring emergency food provisions, which we also provided.
As an example of their intense commitment to the girls' wellbeing, TYTW's Kenyan field staff worked through many barriers and safety threats to reach them including 7 flooded roads, 4 elephant territories with high probability of attack, and areas of high crime activity. We salute our intrepid allies who navigated all that on top of the looming threat of COVID-19 in order to help ensure girls' safety. Wow!
We here at TYTW wake up each day so grateful to be part of an international community dedicated to protecting some of the world's most vulnerable girls during this intense time of need. It is a true honor.
Don't forget to follow us on our social media channels to learn more about about the situation on the ground as it evolves. And once again thank you for your dedication and support.
In solidarity,
Stephanie & the TYTW Team
Links: