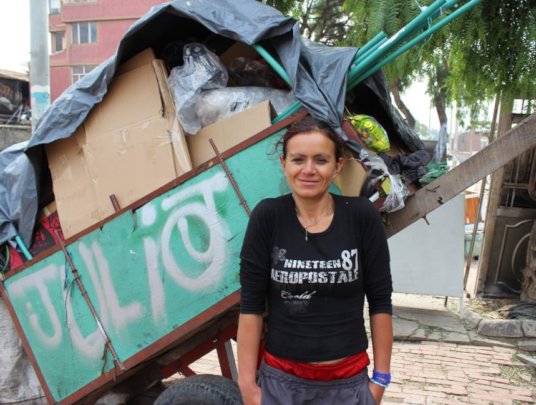 Meet Theresa! For years, Teresa and her husband have earned a living collecting and sorting garbage to support their five kids. When Teresa was offered the chance to learn to build her own recycling cart, she used an Opportunity loan to build it and to purchase materials in bulk, increasing her productivity and her income. Now, she saves every day to achieve her dream of opening a restaurant. According to Teresa, "My life dream is to open a restaurant where my whole family can work together. I am thankful for the opportunities I have received. I am just getting started."
Moving families out of poverty once and for all. Opportunity's partner in Colombia, AGAPE, is tackling the challenges that threaten to trap families in poverty. They do this by providing a robust package of financial and non-financial services to create transformational opportunities that empower entrepreneurial women and men as they work their way out of poverty. With support and training, clients grow their businesses, gain financial security, and improve their living conditions. AGAPE is a vehicle for change in the realms of leadership, home improvement, education, and community projects.
Training and mentoring for lasting change. To ensure clients receive effective, transformative growth opportunities, AGAPE develops curriculum and programs designed to address their specific, expressed needs. AGAPE offers workshops such as savings awareness training for Trust Group clients and leadership training for Trust Group leaders. AGAPE also provides training in essential client protection principles, such as how to protect personal banking information and how to use available resources to resolve issues with loan repayments or account balances.
So far this year, AGAPE has trained 658 loan clients. Currently, significant budget constraints pose difficulties in effectively reaching areas where training is needed, however, AGAPE holds fast to the goal of expanding trainings in Cartagena and Bogota, key areas in need of client support.
AGAPE loan officers desire to respond to God's commandment to love your neighbor as yourself. By caring for Opportunity clients through their work, loan officers act as a physical embodiment of Christ's love.
Providing clients with excellent service and relevant, high-impact products. Opportunity Colombia implements Social Performance Management to ensure excellent client service and protection by aligning products, processes, operations, and systems to the organization's mission and to clients' expressed needs. Currently, the bank is undertaking a review of their data collection system to identify options to increase accuracy and analysis of the client information collected.
Constructing or improving homes to keep families healthier and safer. Opportunity Colombia continues to expand its home improvement loan program, House of My Dreams, which serves families in Bogota, Cartagena, Sincelejo, Barranquilla, Magangue, and Santa Marta. As of June 30, 2018, Opportunity Colombia has disbursed 1,048 home improvement loans since the start of the program.
AGAPE delivers training resources and a robust support plan that complement the bank's home improvement loans, ensuring Colombia's poorest populations can make improvements, including renovations to foundations, walls, doors, windows, kitchens, bathrooms, roofs, and floors. AGAPE trains loan officers, assesses client ability to take on additional credit and then provides technical assistance throughout the construction process. AGAPE also provides a 10-booklet series covering home improvement projects, equipping clients to become more knowledgeable about financing and planning home improvements.
Links: