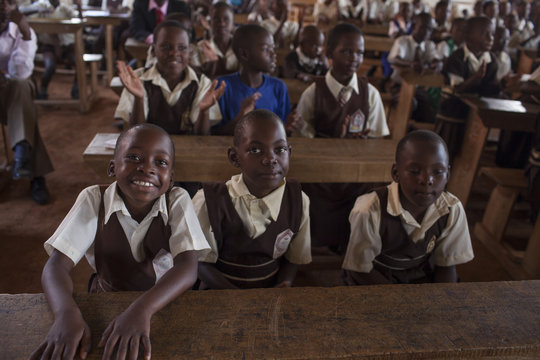 Education is the single largest determining factor for future economic status. Yet, 130 million young people worldwide are not in school—and 70 percent are girls. If a girl cannot complete secondary school, she is at a higher risk of illiteracy, HIV and early marriage, offering little chance of reaching her potential.
One out of every two people on this planet struggles to feed and educate their children. Your support helps Opportunity bring new educational opportunities to children in impoverished neighborhoods around the world. With financial support and business training, school proprietors can build schools and hire teachers, as well as add classrooms, meal services and lavatories. School Propietors like Thomas Balya Bugembe.
Thomas, a former seminarian, dreamed of opening a school for the underserved students of Sonde, Uganda. In 2006, he opened Maryhill Kindergarten and Junior School with just 37 students in two rooms on land.
Enrollment grew steadily, and so did Thomas' determination to improve the quality of education for his students -- whose parents were mostly subsistencefarmers.
With a series of incremental loans,Opportunity Uganda helped Thomas purchase his own land and expand the school to include a main hall and a kindergarten wing. He now has 14 qualified teachers at Maryhill Kindergarten and Junior School to help him serve nearly 400 Ugandan students.
Thomas says his partnership with Opportunity International will allow him to continue expanding the range of educational opportunities at Maryhill and offer a brighter future for students.
Thomas plans to construct a school library, complete with a computer lab and technological training for students. He has a vision of three separate buildings: one each for kindergarten students, day students and boarding students.