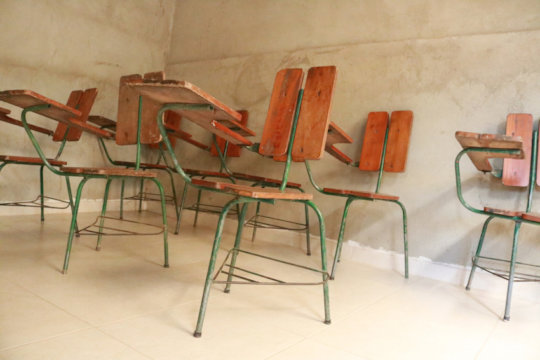 OPPORTUNITY COLOMBIA: GOALS FOR 2019
In Colombia, Opportunity's local entity, AGAPE, helps families access loans and savings from our local financial institution partner and has developed transformative training materials and programs to help families wisely and sustainably grow their businesses, gain financial security, improve their living conditions, and lift their families out of poverty. Key priorities over the next year include:
Empower 1,400 entrepreneurs to start or grow small businesses
Opportunity Colombia works with Savings and Loans Groups to build the capacity of entrepreneurs to launch or grow small businesses successfully. Savings and Loans Groups offer a support network for entrepreneurs, who pool their savings together to form an informal loan fund for group members. Often, Savings and Loans Groups are made up of entrepreneurs at the very bottom of the economic ladder who may not have an existing business and would benefit from a smaller, informal loan to get their businesses started. Opportunity Colombia works within these groups to help entrepreneurs access the capital they need while providing hands-on training in important topics including financial literacy, business management and improving family dynamics.
Update and develop new financial training modules to better support underserved groups
To ensure clients receive effective, transformative training, AGAPE develops training materials and programs to address our clients' specific needs. AGAPE's workshops, such as Savings Awareness Training for Clients and Leadership Training for Group Leaders, and other educational materials have been rated by clients very positively and useful in improving skills. Opportunity plans to enhance and develop new financial training tools to continue providing the best possible education to our clients.
Equip mothers in violence-affected communities to lift their families out of poverty
Opportunity expanded our outreach to two new areas in Colombia—Caucasia and Carmen de Bolívar—both of which are rural areas that have been affected by violence. Opportunity aims to deepen trainings and establish Savings and Loans groups for entrepreneurs in these areas. At this critical point in Colombia's history, investment in rural areas like Caucasia and Carmen de Bolívar will significantly help shift rural economies into the formal sector, opening up possibilities for women and youth to use their skills productively, and launch and operate businesses that expand job opportunities for others in their communities.
Increase access to quality schools for 6,000 students
In Colombia, education entrepreneurs are building low-cost, local private schools to help serve the need for better education in their communities. These schools offer parents an alternative choice to low-quality public schools and, because they are operated by socially-focused entrepreneurs, the schools can quickly grow and respond to the needs of parents in their communities. Opportunity works with school leaders to help them invest School Improvement Loans in areas such as building new classrooms, purchasing buses, adding water and sanitation facilities, or hiring more staff and teachers. School leaders can also participate in Opportunity's Education Quality program by joining a School Cluster, which is a group of schools that regularly meet to receive training and share best practices. Through clusters, school leaders gain important insights to develop better curriculum, train high-quality teachers, and effectively implement improvements in the quality of their school over time. Through this approach, school leaders can build, grow, and improve their own high-quality schools, create jobs in the community for staff and teachers, and help students to learn the skills they need to build more productive futures for themselves and their families.
JOIN US!
This year is critical for investing in the potential of entrepreneurs in Colombia. With access to loans, savings, and training, entrepreneurs will gain the resources they need to start and grow small businesses and expand economic opportunities in communities where few job opportunities exist. Your support will help invest in the potential of mothers, fathers and other hardworking entrepreneurs to drive the changes they want to see in their lives, and throughout their communities.
Links: