Just nine months after leaving a low-paying job in politics, Patrick is operating a thriving sugarcane farm. After years of working a job that left Patrick and his wife in a constant struggle to make ends meet, they finally acted on their dream to expand their small sugarcane plot. Motivated by the need to make repairs to their family home which was literally crumbling around them, the couple took a leap of faith and met with an Opportunity Uganda loan officer.
Because of your support, Opportunity Uganda was able to launch the MEOS™ data capture system, an automated/mobile data solution for collecting, analyzing and processing critical client data. Agriculture loan officers are helping farmers like Patrick register for bank accounts and loans without leaving their fields. They are also using the technology to GPS map the farms and capture biometrics and profiling information that provide specific details about the farm plot and the family's needs.
Today, Patrick can access capital when he needs it most, such as during planting season when he needs to purchase inputs like seeds, pesticides and mulch. He gains the flexibility to make repayments during harvest times when money is more liquid. "The cycle of income growth and watching my plot become a plantation has been fantastic," he says. Patrick was recently voted the president of the Kaliro Sugarcane Growers Association—a group of nearly 1,000 farmers who sell their crops to the local sugarcane factory.
With the help of Opportunity, he has doubled his plantation to 45 acres and improved the quality of his crops. As he continues to grow his business, he is making repairs to his home and plans to construct a larger one. Most importantly, Patrick is confident he will improve his family's future by ensuring his seven children can go to school.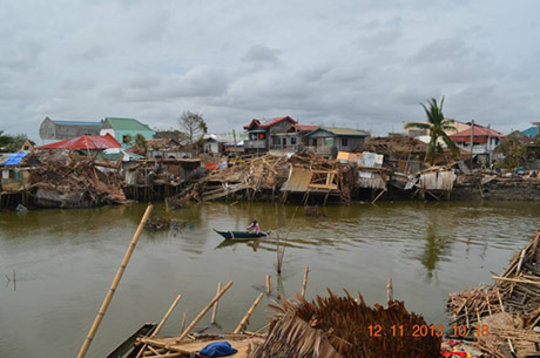 In November, Typhoon Haiyan – one of the worst tropical storms on record – hit the Philippines. The typhoon devastated the island nation, destroying homes and businesses, and affecting more than 13 million people, including five million children, according to the UN Office for the Coordination of Humanitarian Affairs. An estimated 4,000 lives were lost and nearly 4.5 million were displaced. The typhoon also took houses, businesses and loved ones away from thousands of Opportunity clients.
It's an unimaginably difficult situation for survivors – but Opportunity International is there to help. Microfinance can play a significant role in rebuilding the island nation, by delivering financial support to the most vulnerable. Opportunity immediately created the Philippines Rebuilding Fund to ensure that the individuals and families affected have the financial assistance to recover.
While aid organizations must continue to provide lifesaving services now, we must also think about where survivors will be one year, two years, and five years from now. This fund will give survivors the support they need to reconstruct their homes, restart their businesses and restore their livelihoods. It will provide resources for long-term efforts, including emergency loans and assistance to local partners that help communities regain their economic health. Opportunity has worked in the Philippines since 1981, so we'll be there assisting recovery every step of the way.
Learn more about the Opportunity Philippines Rebuilding Fund in this MSNBC artcile from December 24, 2013: http://www.msnbc.com/msnbc/how-rebuild-the-philippines
Donate now to the Rebuilding Fund: http://www.globalgiving.org/projects/raise-capital-for-entrepreneurs-in-philippines/.
With an average income of $2 per day, many Ghanaians struggle against the debilitating effects of chronic poverty and hunger. Opportunity Ghana's operations began in 1994. Today, we provide nationwide coverage in Ghana with significant operations in all 10 of the country's regions through 47 branches that serve hardworking grassroots entrepreneurs with an array of microfinance products and services.
In 2005, Opportunity launched its programs in Ghana to offer deposit services and increase outreach to Ghana's most marginalized rural families and communities. Because of your support we have imrpoved our agricultural loans to help farmers, many of which are women, pay expenses during the growing season.
Through the support of this project, we have raised the funds to map and profile clients' farms, enabling the bank to customize agricultural lending to provide accurate input levels and funding. Savings accounts and insurance products also help ensure farmers' food security. The crop focus in Ghana includes cocoa, chili, plantain, citrus and onions.
We are so thankful and appreciative of your support which has enabled this project to be fully funded. Until we develop another project focused on Ghana, we will be rolling over all recurring donations to a broader project called Banking on Africa (#7660). This new project focuses on providing financial services to the poorest of the poor in Africa many of which are rural farmers. Please contact us at getinfo@opportunity.org with any questions regarding the ending of this project. Thank you again.
WARNING: Javascript is currently disabled or is not available in your browser. GlobalGiving makes extensive use of Javascript and will not function properly with Javascript disabled.
Please enable Javascript
and refresh this page.