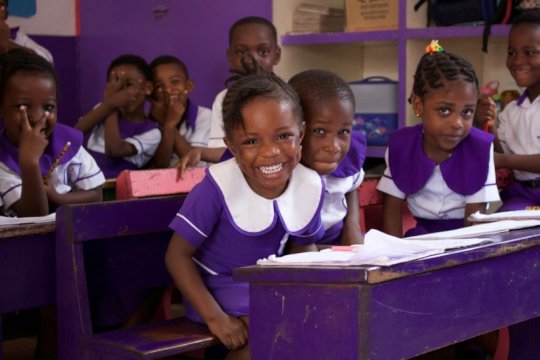 EDUFINANCE GLOBAL OUTREACH FOOTPRINT
Despite global gains in education and a global drive toward UN-adopted Sustainable Development Goal #4–'to ensure inclusive and equitable quality education and promote lifelong learning opportunities for al'–access to quality education remains far from a universal reality in 2019.
In 2018, we provided financial and/or non-financial education products and services in Africa: Côte d'Ivoire, Kenya, Nigeria, Zimbabwe, Ghana, Liberia, Rwanda, Tanzania, and Uganda. Latin America: Ecuador, Peru, and Colombia. Asia: India. In 2019, we plan to increase our footprint by adding financial and/or non-financial education products and services in several additional locations.
POSITIVE BENEFITS FOR FAMILIES AND COMMUNITIES
EduFinance fosters inclusive learning environments and opportunities for increased access to education by offering sustainable, scalable services. A few recent key learnings shaping the program and demonstrating its positive benefits for communities, schools, families, and students include:
Teachers increased classroom innovations. Teachers in Uganda have increased ability to innovate more because they have gained confidence and new ideas through the EduQuality program training.
Students improved learning outcomes. Over three years, girls who attend Opportunity Uganda partner-funded schools improved literacy by 64% and numeracy by 32%.
Women clients supported their children's education. Women clients across five countries shared that they were actively supporting their children's education and happy in their success.
Schools created and sustained jobs in their communities. An estimated 185 new full- and part-time jobs were created by 75 Opportunity-financed Ugandan schools over three years.
Schools used loans to address key factors raised by families. School proprietors in Ghana and Uganda increased student enrollment by expanding classrooms, improving infrastructure, and focusing on education quality rather than simply raising tuition rates.
EDUQUALITY: OPPORTUNITY PUTS QUALITY FIRST
Access alone does not secure quality education; we ensure this through EduQuality, a companion initiative to EduFinance. In 2018, we expanded the EduQuality program across three key initiatives including School Clusters, Pathways to Excellence, and Professional Development.
School Clusters. Today, 1,069 local, affordable private schools formed into 186 clusters across six countries, join to share challenges, develop solutions, and form best practices. In-country education specialists support the school clusters in a bottom-up approach to school improvement, empowering local educators at the community level.
Pathways to Excellence, designed by international education experts, encourages holistic school improvement via a self-evaluation process across 30 educational areas including school culture, environment, pedagogy, and teacher development, Schools partner with one of Opportunity's 24 EduFinance specialists who provide support throughout their development.
Our School Leadership and Professional Development training program supports school leaders to improve student engagement and enhance learning environments.
Thank you for driving accessible and quality education for all children!
Links: