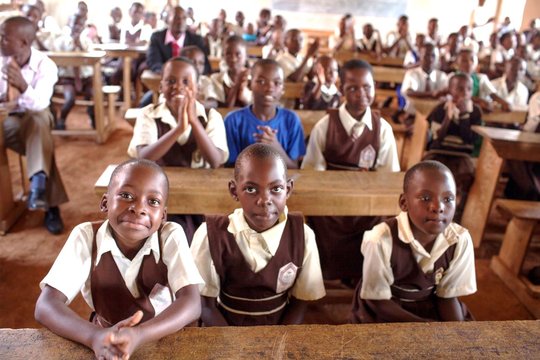 Wearing crisp uniforms and sitting in row upon row of wooden desks, a classroom of children follows a lesson with their teacher at the Maryhill Junior School in Uganda. When the teacher prompts, sometimes they answer in unison, other times a myriad of hands shoot in the air, students bursting to catch the teacher's eye. This was not always the case in this farming town 25 kilometers outside Kampala, the capital city. It's not hard to marvel at how far the school's founder Thomas has come.
Through Thomas' vision and hard work, the Maryhill Junior School has risen from humble beginnings. In 2006, when he was just in his mid-twenties, Thomas made a commitment. He was determined to provide a better education to the children in his community. Like most dreams, his started small. He leased two cramped rooms on a rented plot of land, opening his doors to welcome 37 students. Today, Thomas' school serves 356 students from K-7, many of whom board on campus. Thomas is making his dream to provide education to his community a reality. Beyond that, the community has found his passion and vision contagious. In the early days, Thomas had to do nearly everything, but today he employs a cadre of 14 teachers and seven caregivers – that's 21 adults making Thomas' commitment happen.
His first loan of less than $2,000 allowed him to expand his school by renting more rooms. Over time, Thomas qualified for a larger, more flexible loan valuing $7,600 which he invested to construct kindergarten classrooms. He is currently leveraging his most recent loan of $25,000 to finance an assembly hall and clean running water and electricity in the primary block. It is because of the support of people like you that Thomas has been able to create such growth and community impact.
Thomas makes a point of going above and beyond for his students, caring little if these selfless acts go unseen. This includes washing the uniforms and shoes of his students, sending them a clear message that they are worthy. When chatting about the future, Thomas says, "I have a dream to add computers, a library and clean running water in the rest of the units. I know I will achieve this with Opportunity as my business partner."