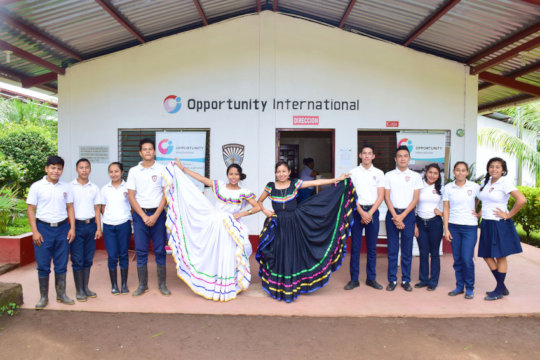 Filled with a vibrant community, burgeoning economic opportunity, and breathtaking landscapes, Nicaragua is the United States' neighbor to the south that is slowly but steadily rising to increased economic prominence on an international scale.
Ten years ago, Opportunity International saw Nicaragua's potential and decided to launch its flagship project in the country for Community-led Economic Development. Through this program, you have helped Opportunity Nicaragua drive sustainable solutions that engage communities to build pathways out of poverty. Yucca farmers, young schoolchildren, and entire communities have experienced the support and reaped the benefits of participating in this initiative, earning greater income and the opportunity to break the cycle of poverty and pave a way towards a future filled with sustainable opportunity.
Nicaragua, and the world, have made significant strides to reduce extreme poverty, providing many of Opportunity's clients with renewed hope and optimism. However, our work is not finished. There is still more to be done. Currently, 1 in 4 people in Nicaragua live on less than $1.90 a day. In order to meet these needs and continue providing pathways for hope, we need your support. Your continued investment in Opportunity's work in Nicaragua provides invaluable resources to families still struggling to break the cycle of poverty. Together, we can provide a beacon of light for those who have not yet been touched by the hope that change can and will come to their communities.
Nicaragua Country Profile
One of the Poorest Central American Countries

- Nicaragua's GDP for 2017 was $13.81 billion and it ranks 165th in the world in terms of GDP per capita.

1 in 3 People Live in Poverty

- Poverty continues to run rampant, with 29.6% of its population below the poverty line as of 2015.

Most Families Rely on Agriculture for their Livelihoods

- In Nicaragua, 31% of the labor force is involved in agriculture. The most commonly grown crops in Nicaragua besides yucca are coffee, bananas, sugarcane, cotton, rice, and maize.
Lack of Quality Education Perpetuates Poverty - Youth living in rural areas are least likely to complete their education, and low levels of student learning continue to hamper opportunities for youth.
What We Do
Opportunity Nicaragua believes that community-led economic development works best when it is both collaborative and asset-based. By helping communities realize and leverage the resources and gifts they already possess, Opportunity is equipping low-income families to drive the changes they wish to see in their communities.
In Nicaragua, tourism and agriculture emerged as two of the most promising industries through which low­ income communities can utilize their existing assets to increase their incomes and improve their livelihoods. Opportunity Nicaragua implements three core programs focused on engaging families, youth, and communities within these industries to stimulate economic growth and provide opportunities for building sustainable livelihoods:
Economic Development Through Agriculture. Opportunity Nicaragua equips rural yucca farmers to improve their yields and incomes.
Vocational Education for Youth. Opportunity Nicaragua provides relevant education to rural youth to help them develop in-demand skills for their future.
Community Empowerment and Engagement. Opportunity Nicaragua supports community leaders in driving effective solutions to community-wide challenges that limit quality of life.
Together, these programs provide Opportunity with a strong focus to work collaboratively with communities to build sustainable pathways out of poverty.
Links: