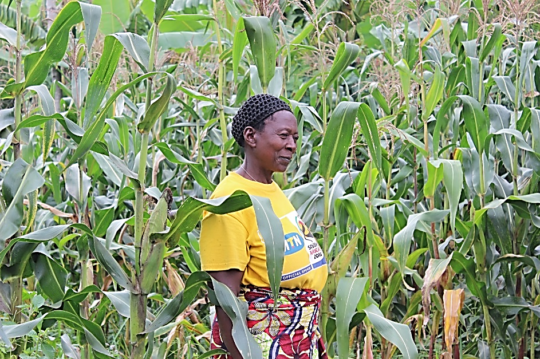 When small scale farmers in sub-Saharan Africa access quality extension services, farming loans, savings accounts and other tools to manage cash flow between harvests, they significantly increase their productivity. These benefits lead to measurable economic and social impact throughout Africa.
Since the launch of our Agriculture Finance Initiative in 2009, Opportunity delivered more than 350,000 farming loans valued at $67 million and 400,000 savings accounts to small scale farmers. Each loan is packaged with targeted financial products, training in modern farming practices and links to extension services to ensure high-impact results. Contributing to this strong growth, Opportunity Rwanda tripled the number of loans made to farmers in 2015 to 35,498. Marie Rose is one of those farmers.
Marie Rose owned a farm that failed to produce a bountiful maize crop. When her husband died suddenly, she could no longer afford the diabetes medication that was so critical to her continued good health. She quickly fell into a very dark and frightening place. "I was widowed and beyond poor," Marie Rose said. "My husband left his farm to me, yet I was not educated in the modern farming ways. I was lost and alone. Then, I found Opportunity." Grieving and in need of sound advice, she found the answers she sought when a friend invited her to join an Opportunity Rwanda Trust Group.
First, she rented out extra rooms in her home to trustworthy neighbors to generate immediate income. Next, she invested Opportunity loans to purchase high quality inputs, improving her production. In no time, she was not only growing enough maize to store for her family, but she had plenty to sell at market. The increased income has had an overwhelmingly positive impact on her ability to manage her illness, support her family and even take on the care of several local orphans.
Transforming her maize farm from mediocre to amazing in just two seasons has drawn plenty of attention from neighboring farmers. Filled with new confidence, she is certain to reach her goals to create jobs for local laborers and install a toilet and electricity in her home. With your help, Opportunity will decisively scale its agriculture services to millions of farmers like Marie Rose in the coming years.
Links: