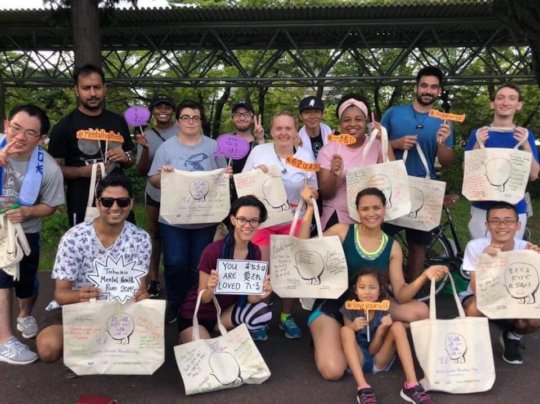 Dear Friend,
It has been several months since our last report and I wanted to give you an update on our activities over the past months. TELL has been busy delivering workshops, providing face to face counseling and running our crisis support Lifeline and chat service. During this time we trained 28 potential support worker volunteers in our Spring 2019 training in which 16 people graduated to our Lifeline and have begun taking solo calls and chat shifts. For our Fall 2019 training, we have received over 60 applications and we hope to train 40 volunteers.
We have delivered 18 workshops in Tokyo, Kansai, and Okinawa, on a wide range of topics from mental health in the workplace, to communicating with teens, cyberbullying, and sexual harassment in the workplace just to name a few. We also marched in the Tokyo Rainbow Pride Festival, making noise about youth LGBTQIA mental health issues and handing out information cards and resources to over 1000 people. On May 30th we held a free screening of the BBC documentary 'Japan's Secret Shame' and in July in conjunction with WeWorks & McCanns, we celebrated Stress Less Day with a range of free workshops and mediation activities.
For World Suicide Prevention Day we held our 3rd Tokyo Tower Climb, in which 500 people took on the challenge to climb the tower in awareness of suicide prevention. We also held Suicide Prevention Talkie Walkies, in Sendai, Tokyo, Kyoto, Osaka, Kobe, & Nagoya.
As part of the global call for action to prevent suicides, the WHO, stressed that young people are especially vulnerable and that more than half of all those who commit suicide are under the age of 45. And among 15-29-year-olds, suicide is, in fact, second only to road accidents as the leading cause of death. Here in Japan, the 2018 White Paper, reported that youth suicides hit an all-time high in 2018, in which family-related matters such as discipline issues or bad parental relationships were major factors for elementary and junior high school students. For high school and university students, poor academic performance and worries about the future were major risk factors.
Providing support in a manner young people prefer, and allowing them a safe space to talk through their concerns is vital. As we work towards our funding goal, TELL will continue to break down the barriers and fight against the stigma surrounding mental illness in Japan.
We hope you will consider supporting our project and work in Japan.
Your donations matter and can make a real difference in a young person's life.
Saving lives is a community effort. Will you help us?