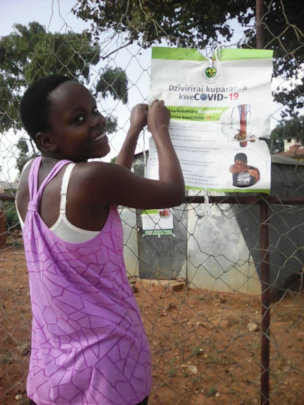 We hope this reaches you, our loyal supporters, and your families, safe, healthy and well during this very uncertain time globally.

Just two weeks before the planned end of our first term, the government of Zimbabwe called for all schools to close their doors and for the country to prepare to go into lockdown mode. We abided and sent our students home on March 24 and our two American teachers temporarily back to their famliies in the U,S. Fortunately, we planned carefully to devise ways that our students could continue to study and our school culture could continue to thrive despite this uncertain chapter.
To that end our teachers worked hard to compile two months of work for our students to take home, loaded on their Kindle Fire tablets, together with pdfs of their textbooks. They also selected several library books to carry. For those who live in rural areas far from any source of electricity, we loaned solar lamps with chargers so that they could use the sun's power to charge their kindles and be able to study at night.
Becuase our students do not have access to the Internet, it is not like other schools who have simply moved classes to online platforms like Zoom. What we have done to adapt is to ensure all of our students have access to a phone with WhatsApp - we send them Whatsapp data bundles every Monday. We've virtually set up our school on WhatsApp - there are groups for every class, for most extracurriculars, for each advisory group and one for the whole school. Faculty hold office hours three times a week where they can give mini-lessons by voice note and answer questions and respond to academic challenges students are facing. Advisory group meetings on app mean no student can fall though the cracks with all of the challenges that lockdown in a food-insecure or low-income family can bring. The Media Club continues with its reports to the school, the chess team gets weekly tips, and cross country are doing workouts at home.

Holiday homework for Research Methodologies Class has been service learning projects at home or in one's immediate community. We are really impressed with the positive impact our students are making with tutoring children in their homes or neighborhoods, planting nutritional gardens, cleaning communal toilets and most of all setting positive examples for COVID-19 awareness and sanitation in their neighborhoods. Two students, togehter with half a dozen USAP alum have set up COVID-19 Zim app groups that now have over 600 members and share fact-checked relevant information three times daily.
Keeping school going under these extraordinary circumstances does not come without a price. We still have to pay our rent, our salaries and operational costs as well as lots of buy phone data to keep in touch with all of our students. We thank you, our support base, for you ongoing support that allows us to continue to provide a transformative education for students who otherwise would not have access to a bright future.

We know the road is going to be long, but we will get there, traveling together with our USAP family. Thank you for being part of that family,