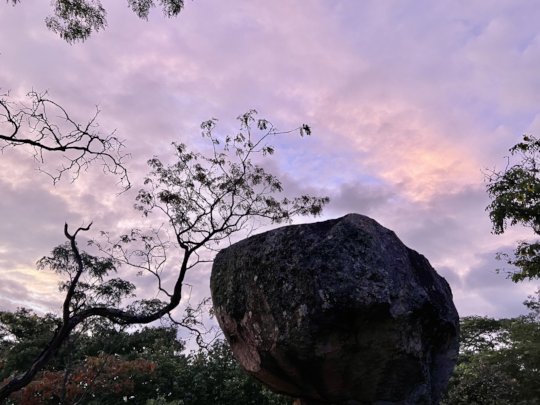 Greetings from Zimbabwe. I just got back home from spending a week at our school, empty save for a few of our junior faculty who elected to stay there to be able to complete university online courses that they had started with Pioneer Academics. While peaceful, there was a certain emptiness on campus, reflecting the fact that really the magic in our school is our middle name - Community. Without the students' determination and cheer, the quirky intellectual humor of our faculty, the labor together that keeps our campus clean, waters the garden and feeds us all, there is no school.
Second term would have opened for Zimbabwean schools on May 5, but here, two weeks after that date, we are still on lockdown, scattered across the country. However, the spirit of USAP Community School continues - we have increased the intensity of our remote teaching and have diverted to a full teaching schedule. Faculty and student are in "class" together in WhatsApp groups. Teachers create "Khan Academyesque" videos which students download the night before their lessons. They spend the first 20 minutes of class watching the video and then embark on an assignment that the video leads to - their teachers and TAs and classmates are there in the app group ready to lend a hand when they face a challenge or have a question.
And we are together in other ways - the Media Club shares their now famous weekly hashtags and "quotes of the half week" and explanantions of ecommemorative days, students from our accapella group often share voice notes of beautiful singing on Sundays at the time we would have Quaker meetings and our Head of School still sends weekly letters to the students. As much as possible, we are building our community - together while apart.
Our students have impressed us with their resilience and service during this time - reflecting our school values as they adapt to our current COVID-19 world. One travelled for 12 hours, mostly on foot, 40 km to move from his village location to a factory where his uncle works in search of electricity to be able to attend our remote classes on his phone. Some have been the beacons in their neighborhoods to share COVID-19 prevention awareness, setting up handwashing stations and providing infomation by whatsapp. Others are tutoring neighborhood children and siblings, setting up lessons for kids of all ages. Some have voluntarily undertaken the not so inviting work of cleaning public toilets and clearing brush around wells. Others have planted gardens at home so their families will have a source of food during the lockdown.
Maintaining our school, though not open, comes at a cost - we continue to pay operational costs such as rent, salaries, health insurance and security while incurring new costs like data and purchasing sanitation and PPE supplies to prepare for reopening. During this difficult time, we thus come to you, our supporters, and especially those of you who support us monthly through recurring donations, to thank you . Thank you for your belief in our students and in our community. Without you, we wouldn't be together during this time apart.