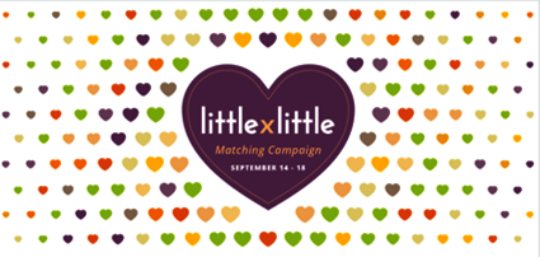 El mundo ha cambiado mucho en los últimos 6 meses, enfrentando una pandemia mundial y desastres naturales, todos hemos visto como nuestras acciones, sin importar lo pequeñas que sean, tienen un impacto en todos los que nos rodean.
Ahora es tu oportunidad de hacer otra pequeña acción con un gran impacto apoyando nuestro proyecto y hacer del mundo un mejor lugar para todos.
Es por esto que ideamos un plan temporal para seguir apoyando en la nutrición de nuestros niños, el cual consiste en la entrega de despensas mensuales a las familias de los niños, hasta que el kínder retome nuevamente actividades. Por supuesto, cumpliendo con los protocolos de salud para que las entregas sean seguras para todos.
Haz un donativo de $10, $30 o $50 dólares y GlobalGiving donará un 50% de lo que aportes.
Del 14 al 18 de septiembre de 2020.
Necesitamos tu apoyo mas que nunca, entra a nuestro Proyecto y da click en donar para activar la campaña LittlexLittle.
-----------------------------------------------------------------------------------------------------
The world has changed a lot in the past six months. In the face of a global pandemic, and back-to-back natural disasters, we've all seen how our actions—no matter how small they may seem—impact those around us.

Now's your chance to take another small action with a big impact by supporting our Project to make the world a better place for everyone.
Until the Kindergarten resumes activities, we have devised a temporary plan to continue supporting the nutrition of our children, which consists of providing monthly pantries to the children's families. Of course, complying with health protocols so that deliveries are safe for everyone.
Make a donation of up to $50, and we'll match it at 50%.
Until Friday, Sept. 18 at 11:59 p.m. EDT
We need your support right now. Click to donate + get matched!