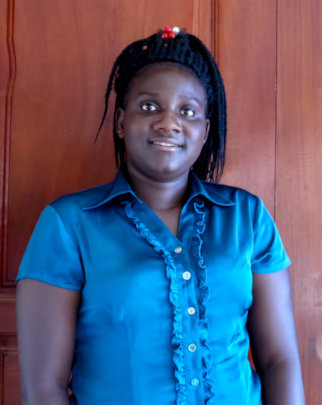 Girls in Rural Uganda are often told to quit school so they can start a family. Without your support, Ruth believes that at 22, she would "be a mom to many children; rather than one of Nyaka's amazing nurses. Ruth lost her father at a very young age. She and her five younger siblings were sent to live with their grandmother. While attending Primary One, her grandmother couldn't purchase her books or pay school fees. Her education was going to end before her eighth birthday. Ruth accepted that she would be a housemaid, rather than achieve her dream of being a nurse. However, thanks to your support, everything changed for Ruth when her grandmother discovered a FREE school for orphaned children--your Nyaka Primary School. Ruth was a Pioneer Student, part of Nyaka's first class of students. As a student, Ruth watched nurses care for her ill grandmother. She knew she wanted to become a nurse to serve her community, particularly for sick children. Thanks to the strong education foundation you provided Ruth, she made her dreams a reality. Ruth graduated nursing school! Your compassion not only benefited Ruth, but also allowed her to impact the Nyaka community. Today, Ruth is the nurse at your Nyaka;s Vocational Secondary School. Ruth treats sick students so they can stay in school. She also counsels and provides emotional support for students. This is Ruth's dream job because she can inspire students everyday. Young students gain confidence by seeing how Ruth was a Nyaka student who became a medical professional. Because compassionate people like you invested in Ruth over 10 years ago, she is able to continue to inspire Nyaka's female students every day. Can you imagine what the children you are investing in today will do when they grow up?
Links: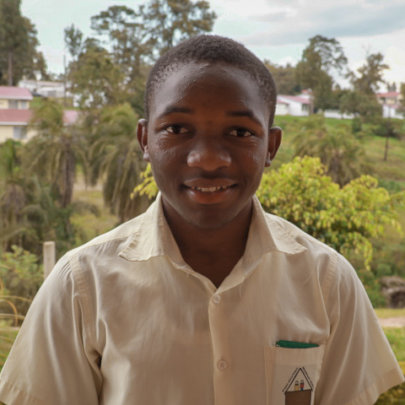 When Anthony was a child, his father fell ill. With three younger siblings to care for, Anthony had to grow up quickly. When his father couldn't work, Anthony would miss school because he couldn't afford fees and had to help with chores. At age 9, Anthony's father died, killing his dream of going to school. To feed his siblings, Anthony needed to work for a farmer, tending to pigs and goats. Anthony prayed every night, hoping for an opportunity to attend school. Thanks to your kindness, his prayers were answered! At age 10, a former teacher told Anthony about how Nyaka offered free education to orphaned children. Anthony enrolled right away. Yet, things weren't easy. Anthony struggled because he hadn't been in school for a long time and his old school hadn't been t as rigorous as Nyaka. He dreaded math and science class. However, you hire some of the highest quality of teachers in Uganda for your schools. Since the science teacher was also from Anthony's village, he understood his student's obstacles, like having to care for his siblings at home instead of doing hours of homework. He helped Anthony develop tactics so he could make the most of his time at school and reach his academic potential. It wasn't long before Anthony loved school! You gave Anthony the tools and support he needed to change his life! He was so inspired by his teacher that math and science are now his favorite subjects. The mentorship paid off! Anthony graduated from primary school and is now a student at your Nyaka Vocational Secondary School. At secondary school, he was encouraged in his physics classes and the Robotics Club to become "an innovator." Every time he saw a car, he would wonder how it was put together, which has lead him to aspire to be an engineer! Now that he has graduated Nyaka Secondary, he plans on studying engineering and coming back to the village to implement technological innovations that will benefit his home community! Thanks to your compassion and support, Anthony is on the road to success. Thank you!
Links: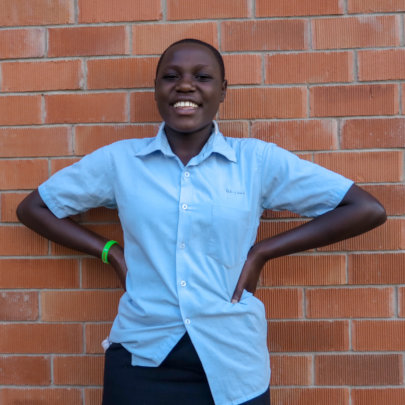 Software engineers, doctors, computer programmers, oh my!
These are just some of the professions that girls in rural Southwest Uganda dream of becoming. However, in this region, it is common for poor uneducated women to begin families while in their teens, trapping them (and often their children) in poverty.
Because of your support, Nyaka's female students are able to access the education needed to achieve their dream STEM* careers. Through Nyaka's Robotics Club, students are able to learn hands-on technological skills that are applicable to the professional world. The club emphasizes students creating electronic devices that benefit their communities.
Through the club, a team of female students have created a phone app that helps nurses tend to patients in the overcrowded local hospitals. Follow the link to watch our video, and you will meet three female secondary students who you have empowered through technology! The girls talk about how the club not only prepares them for the workforce with applicable skills, but has also improved their confidence and their ability to work as a team.
Because of your support, Nyaka's women are able to become the technological leaders of tomorrow!
Links:
WARNING: Javascript is currently disabled or is not available in your browser. GlobalGiving makes extensive use of Javascript and will not function properly with Javascript disabled.
Please enable Javascript
and refresh this page.