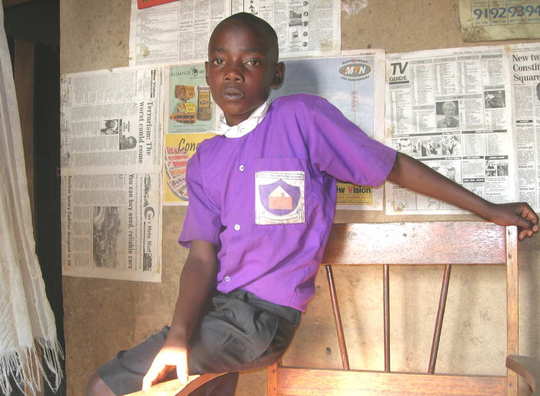 VISIT TO BRUNO'S HOME
Recently a visitor on behalf of one of our donors visited Nyaka School and some of the many pictures she sent me are attached but also a heart touching story about one of the Nyaka students she visited at his home. With her and Bruno's permission we would like to share it with you. Thank you for being part of Nyaka family. Jackson.
I wanted to visit the home of one of the Nyaka pupils in order to gain a better understanding of the contrast between home and school. The nursing assistant suggested that I visit Ankunda Bruno, age 14 in P4/Grade 4. To look at Bruno, you would think he is about nine or ten. His teacher describes him as quiet but attentive in school, and he performs very well.
I suggested walking to Bruno's home so I could get feel what this is like for him to walk to and from school each day; but this would have entailed climbing up and down two small mountains over rough terrain (3.6 km each way) and the Headmaster wisely suggested we drive.
In former years, Bruno's father had been quite a well-to-do local farmer. His had a banana plantation (field) and grew several crops. He also owned quite a few cattle and goats, and lived in a fairly large and well-built compound near to a natural spring. But Bruno's father died six years ago (in 1998) and two years later his mother died and after that, also his grandfather and finally his aunt, who had lived in the compound, as well. That just left Bruno and his two older brothers. Then, if this wasn't enough tragedy, an uncle grabbed some of the property and took Bruno's oldest brother to mind his store at night. Bruno's middle brother was also pulled away in order to look after Bruno great grandmother who is very frail though these two brothers still have frequent contact.
This means that Bruno lives alone. I can't explain how shocked I was by this. In all the years that I have visited poor homesteads, even child-headed households, I have never seen a child having to live all by himself, day after day. There are not even any neighbors close by. Just a part-time porter who sometimes hangs around and watches over the last of Bruno's inheritance three goats and one cow (that he shares with his brothers). You have to try to imagine this: the compound sits atop a hill, out of earshot of the neighbors. It contains four buildings, three of which are abandoned. There are some garden plants that Bruno tries to maintain, and a field of sad-looking banana trees off to one side. But otherwise, there is nothing. No people, no pets, no company, no protection. No paraffin lanterns or even a candle for light after dark. No food in the kitchen except for some bananas and a few mangos. And just one small boy, trying to make it on his own, day by day.
The driver and I had bought some oil, sugar, bread, and soap by way of a small donation. After I was invited inside (the house is relatively substantial, but dirty and uncared-for) I sat down with Bruno and told him how brave I thought he was to be living on his own like a grown-up. But it must be very hard, I offered. Personally, I can't imagine how he copes with the loneliness.
What is most difficult for you? I asked gently. The nights, Bruno answered softly. Do you have bad dreams? I asked. Yes. And what do you do, to make the bad dreams go away? I practice my homework in my head, Bruno said.
(I have to say, it has been a week since I heard Bruno say this, and I simply can't get it out of my head. I keep thinking about him, and about the impact of Nyaka school on this child his only thread of hope over and over again.)
- LUCY