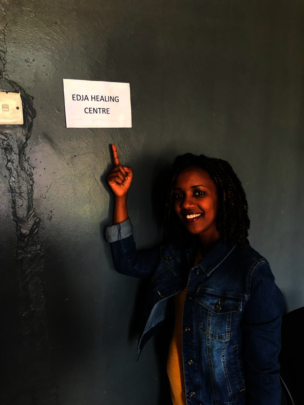 Thank you for being a champion fighting child abuse, sexual assault, and domestic violence in rural Uganda! Thanks to you, EDJA has had undergone exciting changes in the last year! Not only has the EDJA Foundation merged with Nyaka to address sexual assault in Uganda, but EDJA has also opened a second healing center at in Kanungu where survivors can go for emergency medical support, counseling, and legal advocacy
EDJA works with community police, judiciary, and leaders so survivors can receive the justice they deserve. So far, you are helping more than 80 survivors work towards their healing. This includes children as young as four years old. You are giving survivors the loving support they need to work toward their healing.
Since the launch of your EDJA Healing Center, more than 400,000 people have been educated about sexual and domestic violence through school visits and radio programs.
Thanks to your generous support, we held the second annual Walk to End Gender-Based Violence in July. You brought 3,000 people together to march for equality and listen to great speakers share about how they can help their community fight sexual and domestic violence.
Because of you, communities in Uganda are learning how to support survivors and find help when they need it.
You are a true champion in the fight against sexual and domestic violence! Thank you!
Jackson has a new book 'Victory for my Village' coming out. To learn more about how to get your copy click HERE
Nyaka's new documentary 'VICTORS' is coming soon. This powerful documentary highlights EDJA's effort to open everyone's eyes and hearts to the most remote and powerful #metoo movement of our day and the fight against sexual violence in rural Uganda. You can click HERE to find a screening near you. If there is no scheduled screening near you, you can contact Nyaka to schedule a screening in your community.
Click HERE for the official trailer of VICTORS
Links: