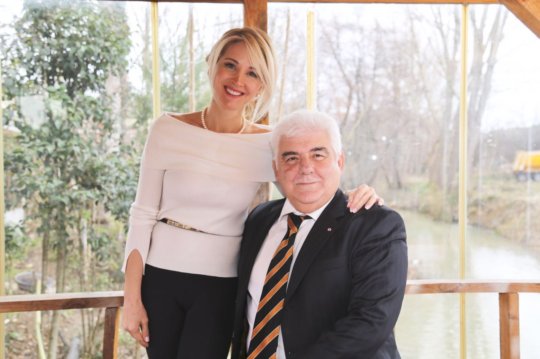 Mrs Meltem Acet who is TV presenter and journalist made an interview with Mr Arif Aygündüz who is the volunteer of this project on December 2016.This interview is awarded as 'The Best Interview of 2016' by the votes of 900.000 people in Turkey.You can follow the interview below and find related photoes of contest and pages of magazine called 'Country Life'
'I HAVE SEVEN THOUSAND AND FIVE HUNDRED GRANDCHILDREN'
Interview: Meltem ACET
The expression 'it is obvious even from his face' is used for some people…That is the case for Arif Aygündüz. The only purpose of him is to raise educated, intellectual and cultivated generation.
He is about 70 years old and can only walk with his walking stick. However, he catches up with everything. This sweetheart who devoted himself to providing the scholarship to students initiates a scholarship activity for METU students with limited financial opportunities.
He calls the students as 'My grandchildren' and does not leave them alone even in their graduation ceremonies because some of them do not have even a family to come to their graduation ceremonies.
Their education life always finalizes with a happy ending. All of them graduates and finds a job, even they show great successes by representing Turkey in international platforms.
Grandpa Arif opens his life, family, home and heart to the young that he does not know. His individual effort which has succeeded to reach seven thousand and five hundred students draws the attention of even an informatics giant. METU fund that he formed under the roof of Turkish Education Foundation is the only project that Apple supports in our country.
He is the most living example of to what extend an idea and individual endeavor can be powerful.
And Grandpa Arif of the young leaves a message to you by means of our interview:
'Right now take an action and touch a life of someone. In case you support, someone can gain momentum.'
Everyone calls you as Grandpa Arif, who is Grandpa Arif? Shall we start by getting to know you?
I was born in Istanbul, 1948. After graduating from Faculty of Business Management in METU, I worked as general director in Koç Holding. Later, I set up my own companies on textile and did exportation to various countries in North America and Europe. I have been working as education volunteer since 1998. I am married with 2 daughters, 4 grand daughters and 225 scholarship grandchildren.
How did you start first to education volunteerism?
In 1998, we formed a pool of scholarship with my ex-classmate. We started to assist 10 students of METU by putting the first fee by ourselves. Our aim was to provide economic, social and cultural support to students with limited financial opportunities.
How did an individual attempt grow this much?
The number of our scholarship students increased from 10 to 553. However, the great economic crisis affected us in 2008. Everyone was in financial difficulties. There were donators who went bankrupt and were obliged to quit a job. I faced with the case that I feared and scholarship of some students came to an end. As we were distributing all the donations, we did not have any substitute money for that kind of difficult times. Think about it, a student goes to the bank to withdraw money and learns that there is no credit. There is no other thing that he/she can lean. He/she has no money to travel, to buy books, and maybe for food.
What did you do afterwards?
This situation made me unbelievably upset. I immediately had an appointment with Turgut Bozkurt, the general director of Turkish Education Foundation in those days. I wanted to form a fund by taking systems of the institutions giving scholarship for many years such as TEF (TEV) and TEVF (TEGEV). We worked together and decided to form a fund under the roof of Turkish Education Foundation (TEF) and we established the fund of 'METU: Our Future'. This fund is one of the 1.150 funds of TEF.
What kind of source is formed for the students in this fund?
I have been collecting donations by going from door to door since 2009.
What do you mean by saying that you go from door to door? How many people have you been able to reach up until today?
I have visited three thousand and three hundred people. At the beginning, no one thought that I could reach so many people on my own. However, I believed from the beginning. I managed to join 90% of three thousand and three hundred people into the fund by talking with them one by one. Our fund is the biggest of the active funds among TEF funds. My system of collecting donations posed an example and donation collecting teams were formed under the roof of TEF.
What kind of lifestyles do the students chosen as scholars lead?
All the scholarship students are successful students coming from families with financial difficulties. There are ones with broken families, ones who cannot keep attending to the university because of having no money to travel, and ones whose fathers are in prison. Each of them has a different story.
You said that not only financial but also social and cultural support is given. How else do these students get support?
There are voluntary mentor elder brothers and sisters looking for solutions to the problems of these young people. They help them from internship problems to finding jobs. Among our donators, there are so many sensitive people from METU, Bogaziçi, ITÜ, Hacettepe and even many people from Faculty of Medicine and Law. They do not only support financially but also support in this way, too.
We are in such a time that we question even where and who we help… What do you do to ensure this trust?
First of all, I want strong connection between the donators and the students to be formed. I enable them to get to know the students of whose life they touch by bringing donators and scholarship students together four times in a year in Ankara and once in a year in Istanbul. The students learn a lot from their donator elder sisters and brothers by getting to know them in the meetings that we organize. This is very beneficial for both sides. I send project report to donators twice in a year. My aim is to enable them to show where their donations go.
You produce projects, form funds, bring donators and students together, prepare reports… do you have any free time?
Yes, I have. In these times, I and my wife go to families of our scholarship holders living in villages and towns to become acquainted with them. We put 5-6 scholar holders up in our home every year.
'I aim to guarantee our future by creating the sense of belonging.'
Really devoted life! I wish there were more people like you!
There are some graduates sharing the same pace with me. In the following years, the number of the members of our team will increase. To create the sense of belonging is primary aim because I can save only today with the donations I collect today. However, my objective is to guarantee our future by creating the sense of belonging. Ten people who had taken scholarship already started to give scholarship.
There should have been a lot of stories affecting you throughout this journey… Could you share one of them with us?
Each of my grandchildren getting scholarship has different story. There is such a story that I can never forget. I received an e-mail on December 27, 2014. A successful girl of ours was explaining to me that she got an invitation for a conference in abroad but no institution that she applied did not give any support to her, and thus she wrote to me as a remedy. I thought 'I could raise that amount in the New Year and send to her' and did not reply immediately. On December 31th night, just we sat around table as all family, my phone rang. The girl who wrote me that e-mail was on phone. I asked some questions to her about herself and her family. He had unbelievable familial problems, I told her to celebrate the New Year with her friends and the money that she needed would be in her account two days later. The amount that would enable her to go the conference in the Czech Republic was in her account two days later. She went, did her presentation and returned.
Her presentation turned out to be the only presentation that worthed publishing! In the same manner, she was invited by name to USA, United Kingdom, and South Korea in 8 months and represented our country successfully with the contributions of her graduate elder brothers and sisters.
Unfortunately, her family was not in graduation ceremony of such a successful, hardworking and ambitious student of ours. I and my wife were there instead of her family and we will be by her from then on.
'The first project that Apple supported in our country.'
I heard about that your project also started to resound from abroad and aroused attention of an informatics giant. Could you mention about it?
Yes, Apple USA decided to incorporate TEF METU Fund into social responsibility projects that it supports. The fact that it is the first project that Apple has supported in our country is another source of pride for us.
You took part in TEDx platform in which the speakers proved their success in their own fields can join. How many people did you share your experiences with?
Last June, I was invited to the activity themed 'Kick off the motion' organized by TEDx Istanbul to explain scholarship project. My speech was watched 230 times together with three thousand and five hundred people in that hall. This made me very happy and I took very good feedbacks.
How can you support the Project? The ones who want to support can reach Grandpa Arif through the e-mail address aygunduz@tev.org.tr, can touch the life of a young person with whom there is no kindredship, surname togetherness.
The ambition of Grandpa Arif affected me so much that I wanted to see the lives that he touched with my own eyes. Münevver Güllü and Gizem Solmaz…Only two of 7 thousand and 500 students whose lives have changed with the project. I went to Ankara and met with them in METU campus.
Here comes two sparkling young ladies whose lives have changed with a scholarship:
I met with them in METU campus. And I listened to their life stories from first mouth.
MÜNEVVER GÜLLÜ I am a 4th-grade student in Faculty of Metallurgy and Material Engineering in METU. I am a daughter of a family living in one of the slum areas of Ankara. My father is a carpenter and my mother is a housewife. I am the daughter of parents who never gave up loving each other and their family despite the troubles that they had. I was always a hardworking student during my high school years. I studied and prepared well for the exam and had the right to get into METU. In that period, our life became upside-down with the health problems of my little brother and dismissal of my father from his work. When I was in first grade in the university, I applied for the scholarships in METU and I was lucky to get the scholarship of TEF. A short time later, I received an e-mail. The e-mail was starting as 'I am your Grandpa Arif' and it was finalizing as 'Please write me an e-mail describing yourself and your family'. I was really surprised. I wondered who that Grandpa Arif was and why he wanted me to something like that. I wrote him an e-mail in which I told about my life with all my sincerity as I am doing right now. Next morning, my phone rang and Grandpa Arif called. There was such a warm-hearted and sincere voice that he talked to me for a long time and he told me that he wanted to meet with me as soon as possible. Now I understand that the mail that I replied enabled me to catch the biggest chance of my life. We had elder sisters and brothers with whom we met thanks to Grandpa Arif. This year, I will be graduated and I will be a female engineer with METU graduation as I have always wanted. Furthermore, I am sure of that I will be a female engineer who is able to stand on her own legs and adopt the values of METU and TEF. I give my thanks once again to all the people who have supported me so far.
Gizem SOLMAZ I graduated from the department of Early Childhood Education as a student of high honor. I got admission to University of Johann Wolfgang Goethe while I was the student at second grade for the summer internship. During three months that I stayed there, I wrote the first study of mine.
I got an invitation to present this study of mine in the 'Congress of European Research in Mathematics Education' organized in Prague. To participate in that congress was very important for me but it was impossible for me to afford the charge of that congress by myself. Firstly, I participated in that congress organized in Prague thanks to the supports of my elder sisters and brothers graduated from METU. Following the congress, the study that I presented was published. Later, I got the opportunity to participate in different congresses held in America, United Kingdom, and South Korea. After I graduated, I passed from the side taking support to the side giving support as a postgraduate student and a professional worker. I was getting a scholarship during my university years but I am a donator now. There is a point which I deduced from my experiences and about which I promised myself. I will always consider myself at the beginning of the process no matter how much I proceed. I will keep the door open which was opened for me during my undergraduate years for the next generation.