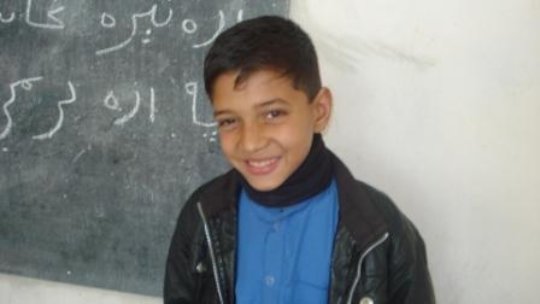 My school is my future
I'm Khalid son of Shakil are livening in Warasa-e-Faqeer village near to our Darman School, my 2 sisters also studding here my father is a farmer, I am studding in grad 5th class.
Darman School is close to our home and we can get our lessons on time, my father said this school changed all community life because before operating of Darman school many boys and girls of our community were illiterate also your brothers and sisters were not study and now they are uneducated too, today is not yesterday as they became older than school age.
Thanks God we have Darman School and studding here so I like to become a doctor this is my hope and my parents also helping me to continue my farther education so my future is in My Darman School.
We are going to school every day and have attendance, I love my school and lessons because I am going early to the school and trying to not become absent if I miss today lessons, then we cannot understand the future lessons.
When my teacher entering in to the class first of all he is saying Hello, good morning my lovely children, how are you today? Is every thing fine? After that the teacher attendance us and see our assignment and asking about the past lessons from each of us, if we had difficulties in our past lesson than our teacher repeating it again until we learn, when our teacher became sure about past lesson than he is providing and teach us the new lesson in way that we can understand it, due to this systematic teaching I can read and write, I can solve mathematical questions and the teachers encourage us and by kindness assist of our teachers we can read and write in better way.
When I get my homework's and I done it in the front of my parents they show their happiness about me that I will be lucky in my future because of studying and attempting in my every lecture and also our teachers are very good and the best teachers that they guide me and all students to attempt in our studies and learn more about everything which we doesn't have accessibility on those and all our lesson problem.
Regards,
Khalid,
I am Shakil Ahmad father of Khalid Ahmad, am farmer and illiterate, many thanks from DARMAN organization and all our supporters regarding this school, when this school starts many years ago I was very happy because I am uneducated I better know the benefit of education, since the Darman school operate we are seeing many positive changes in our children, youth and in our area, always I am saying to my children school is the only place to get success in your life and it's the second house of humans that they learn everything in the school and school is the very important place which help the people for getting his future.
Sincerely,
Shakil,