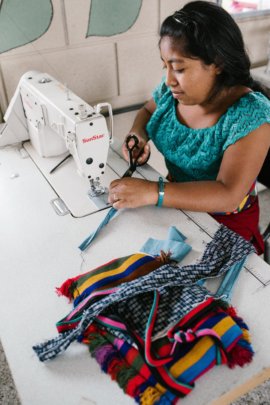 It has been three hours since class has concluded and Flori is still sewing. This is normal for Flori – she loves sewing and she always goes above and beyond to learn to the best of her ability. She is a nurturing mother of four children who embodies the phrase power to change. She began attending our mindfulness and movement programs at the beginning of the 2017 and that was just the start for Flori. She recruited her sister and niece to accompany her after she started seeing the positive effects exercise was having not only on her physical body, but her self-esteem.
Shortly after, Flori started becoming more interested in other services Creamos had to offer. She approached Creamos staff and asked to join our Financial Literacy Workshop. She stated she wanted to learn how to manage her money better since support from her partner was dwindling every week. After six weeks, Flori graduated the course with her sister by her side. She states that the course has taught her the importance of saving for the future, and creating a budget. Currently, she is participating in our Matched Savings Program with hopes to accumulate a long-term savings account for her children's studies. In addition, Flori just began participating in our Healthy Relationship Support Group and our sewing initiative . She full takes advantage of every opportunity that is presented to her, and has inspired many more women to strive for the change they want to see in themselves.
Flori is one of the 134 women who have been served by Creamos in 2017. In the past three months, Creamos has enhanced current services while also offering a few additional opportunities for Creamos participants. Here are a few of the highlights from the past few months.
Sewing: Due to the phenomenal supporters of Creamos, we were able to re-build our sewing program after a devastating fire that took place in March. Sewing participants have finished their initial 6-week training and have already begun production for a local fashion company, My Ethical Wardrobe. Out of our 10 women who were initially selected, 9 women have continued in the program. One woman dropped out due to unforeseeable, personal circumstances. Of the 9 women, 6 women used to work in the garbage dump. In addition, they average 3 children per family while 5 families have reported intra-familial violence. Our sewing participants appear to be more motivated and inspired to be the driving forces behind our sewing company.
Based on a skill assessment given at the end of their training, women have been divided into three groups, - quality control, measuring and cutting and sewing - in order to make production more efficient and of higher quality. Our sewing teacher has been diligently working to seek feasible orders for the participants.
Jewelry: Throughout June and July, jewelry sales have increased by 38%. This increase has made a huge difference in the lives of our mothers. One of our participants, Mirna was finally able to save enough money so she could put a second level on her house – a dream she had had since she moved into the house over 10 years ago. Our jewelry participants have been working diligently to develop new styles for our newest collection…stay tuned!
Wakami: In early 2017, Creamos signed an agreement through which women belonging to the GCGD Community have become Wakami producers. Wakami is a Guatemalan hand made fashion accessories brand whose products are designed by rural Guatemalan community artisans. Creamos currently has 9 women who are producing for the social business. Through this collaboration, Creamos aims to increase the consistancy of the women's income.
Financial Literacy: As of August 2017, Creamos has graduated 43 women from our six-week financial literacy program. After women graduate, all participants are eligible to participate in our matched savings program. Of the 25 pilot participants who began in February 2017, 100% opened a savings account, over 95% saved greater than Q100, and 70% achieved the program's goal of Q400 saved during the first five months. In our next cycle, there are 40 women participating in the matched savings program. As of now, approximately 80% of our participants are saving on a weekly or biweekly basis.
Healthy Relationship Support Group: Our healthy relationship support group has concluded its second cycle, and graduated four members. All members reported a higher sense of personal safety and self-esteem according to Rosenbergs Self Esteem Scale. On the final evaluation, one participant stated "Before the group began, I was sad, I did not have anyone to support me, nor the knowledge that I have now. I am now a happier person, with a higher self-esteem. I finally have a group of people who I trust."
Individual Support: Currently, Creamos is providing individual support to 37 individual clients. This support consists of 12 individual sessions, where the client and social worker work together to minimize or resolve whatever their presenting problem is.
Working in Creamos, we continue to meet so many women in the Guatemala City Garbage Dump Community, like Flori, who are ready to make positive changes in their lives. Creamos continues to provide the opportunities for women in the community, however we always flawed by the effort and discipline women put forth to make these changes.