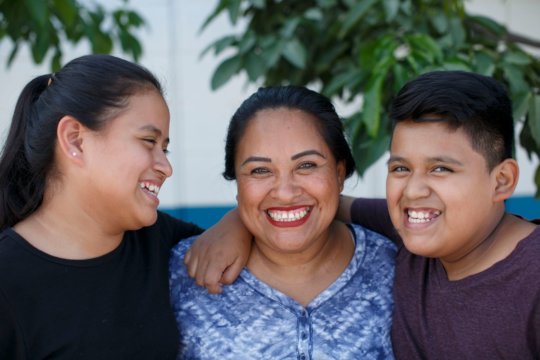 Since inception, Creamos has always approached financial freedom with a unique and family centered approach. The strong rapport that Creamos' staff has fostered with participants is one of the reasons it is such a special organization. Creamos staff aims to work in the most transparent and honest way with participants, and we always try our best to meet our participants where they are financially and emotionally. We truly believe that our women have the power to change their own lives, families and communities if they are given the opportunity to do so. This is the story of a mother of five, whose determination is creating a more prosperous and fulfilling life for herself and her children.
Leslie has been with Creamos since 2008. She has lived in the community surrounding the Guatemala City garbage dump her entire life, and like many women, has experienced a great deal of challenges. Leslie has always demonstrated extraordinary resilience, overcoming personal and familial traumas evoked by the hostile environment in which she lives. In her studies, she exceeded Creamos' requirements of graduating from middle school, and was one of few women to graduate high school in 2011.
Upon graduation, Leslie continued to work at Creamos and dedicated much of her time to being a present and involved parent. She is a dedicated mother and will never hesitate to put all of her children's aspirations before her own.
In January 2018, Leslie approached the Creamos team, and stated she was ready to go to university. She wanted to be a psychologist to support others in the same way she has been emotionally supported throughout the years. Although the team was taken aback, as we rarely hear women declare such a bold and certain dream, we wanted to support her anyway we could while ensuring she understood the reality of going back to school and acquiring such demanding degrees.
Truth be told, Leslie was a few steps ahead of us and guided us throughout the process. She had already approached a counselor at the public university to gain a greater understanding of the exam requirements, paperwork and deadlines she would have to meet. She visited different universities to explore the various programs, and most importantly, which university she felt most comfortable attending. Further, she signed herself up for tutoring through Creamos, and spent a year in individual classes, studying science, English, and university prep courses.
In November 2018, after applying for multiple scholarships, Leslie secured funding for her University studies. She was finally ready to make her dream a reality by studying clinical psychology at Universidad Rural in Guatemala in the Saturday program.
Going back to school after a break is never easy, and there will undoubtedly be challenges along Leslie's new path. She comes to Creamos to receive tutoring three times a week and works with her new friends at university to ensure she is staying on top of her schoolwork. Everyday she balances her responsibilities of being an active parent, working for Creamos, her studies, and being a leader in the community.
It is evident that Leslie's studies have impacted all areas of her home in a positive way. Last year, her youngest son won the "Most Respectful Student Award" and her eldest daughter continued to be one of Creamos' most dedicated and hard working workers. Her other two daughters are both high-achieving students and her son is raising a healthy family. In addition, her husband began attending a gentle masculinity workshop once a week.
Leslie's journey has been a wake up call for Creamos. In the beginning of Creamos, we wanted our women to leave the dump and graduate from elementary school. Ten years later, we now have four women enrolled in university, 50 women earning an income with Creamos and we serve 151 women in total. Creamos will continue to evolve our own programming and foster partnerships with external organizations to meet the needs and dreams of our participants. We believe that supporting women through endeavors as complex as a university degree, or as light-hearted as a Zumba class has the power to change an individual, community and family.
.