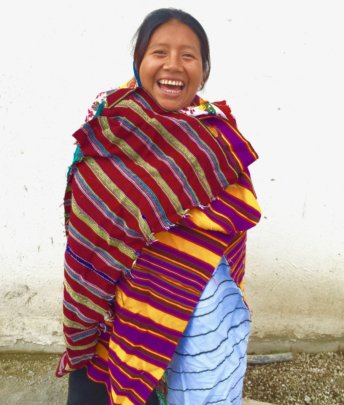 Since inception, Creamos has focused on increasing financial independence and security for the most vulnerable women in the community surrounding the Guatemala City Garbage Dump so they do not have to work amongst the dangers of the landfill.
When first starting Creamos, we were convinced that in order to have the most impact, we needed to do whatever we could to make our constituents lives better according to what we thought would "help." We adapted rules, we allowed lateness' to slide under the radar, we spread ourselves too thin as a staff and we made exceptions for timeliness and quality of our products because we told ourselves "we understood."
We want to be very clear - none of these decisions were out of pity. At no point did we feel badly for our affiliates. We never thought they were incapable nor did we ever believe they were unable to comply with anything we asked from them. We thought we were being empathetic and accepting of the extreme factors that were preventing them from meeting their asked responsibilities. What we did not realize was by trying to adapt rules and meet the multiple, individual needs of our participants we were actually hurting the organization as a whole.
In any non-profit there are constantly ethical dilemmas that workers have to navigate. Take a look at the following examples. As you're reading I want you to think of how you would respond in these situations:
Example 1. Would you let a woman who is blind, hand in paper beads that are not up to the desired quality?
Example 2. Do you discount the pay of a woman who handed in her order late, despite the fact her son has just got into an accident and needs to pay his medical bills?
Example 3. We have a strict policy where women are not allowed to sell their paper jewelry outside of Creamos to ensure equal pay for our women. When sales were low, we discovered that two women were independently selling in a local store, selling as "Creamos" – an organization that helps various women when in reality it was just those two. Would you ask these women to ask the women to leave the program?
Undoubtedly, these examples pull on your heart-strings. I am sure most people reading this would think we were inhumane for even categorizing these are ethical dilemmas. I am sure most people would think the answer is obvious: you help as much as you can. This is what Creamos did at first. We bent the rules and made exceptions to meet the distinct and unique situations of each affiliate.
However, let's look at the above examples from a different perspective.
Example #1: In this example we are wondering whether or not we should permit our woman who is blind to hand in lower quality products since she cannot see. What if the client who received the order does not continue to buy with Creamos since "some of the pieces" were not of desired quality. What if this was a large order, which would have provided a consistent source of income to 25 women? Now no one will receive an order again from this company.
Example #2: We are asking whether or not we should discount the pay of a woman who handed her order in late but has to pay exorbitant medical bills for her son who was just in an accident. What if you discounted another affiliate's pay last week for handing in jewelry late, but due to this woman's circumstances you pay her in full? The rest of the women could see it as favoritism and feel they have been treated unfairly. Can you risk having other women lose trust in you?
Example #3: Here we are looking at two women who clearly broke the rules. It seems pretty black and white, right? By kicking them out of the jewelry program, which has been their primary source of income for the past 10 years, it also makes them ineligible for our emotional support program. One of these women is in a severely abusive relationship and has been making strides in her journey to safety. Is it the right to take these services away?
We were listening, but only to individuals. We were not seeking feedback in how these isolated decisions were affecting our organization as a whole. We have always had weekly meetings with our constituents, and these individual situations would be brought up, one by one. We found ourselves defending our decisions, and having to explain choices we made to maintain the integrity of our leadership.
As a non-profit, you set up rules, by-laws, and contracts to try to create documentation that will foster stability and veracity amongst populations that do not receive the same treatment outside the institution. There is no class, education, nor experience that can prepare any organization for the diverse and intricate challenges they are faced when working in such vulnerable communities.
That being said, we have learned that there were protocols and systems we can put in place that will prepare us as an organization to respond to these multifaceted crises instead of proceeding in such a reactive manner. We realized there are ways to provide empathetic, individual support while still acting in a just way that does not inhibit but actually fosters the growth of Creamos and our constituents.
After countless discussions it became clear that we needed to shift the tone of these conversations. Instead of defending ourselves, we began to engage and dig deeper into the concerns, questions, and criticisms of our constituents. We utilized our weekly meetings to work with the women of the program to compromise, create rules, and procedures until we finalized a group contract all women felt comfortable with.
As a staff, we utilized their feedback to create internal systems to respond to the anticipated challenges and crises face. When creating these boundaries and procedures, we have tried our best to be as delicate and vigilant as are the situations we are dealing with.
We designed an emergency response for when landslides occur in the dump, which is a common occurrence here in the community, and often leaves our families with lost loved ones. We are committed to having phones available, providing copies and prints while also providing a safe place to process the trauma. These were all needs that were identified by our participants.
We have implemented a crisis loan program to provide financial support to women who are undergoing any level of emergency. Each loan is provided based on an analysis of need by our emotional support program, the viability of our financial means to provide the loan, as well as ultimate approval from our executive director. This was a way to streamline the process of managing these extreme emergencies while avoiding our women being subjected to high interest rates from loan sharks in the community. This was an identified need from our constituent feedback.
As staff that did not grow up in this community, we will never fully understand what it is like to live in the area surrounding the Guatemala City Garbage Dump. These are just a few examples of how we, as an organization have tried to act in a more prophylactic manner and tried to increase our understanding. Striking the balance between holding our constituents responsible while exercising empathy to the extreme environment that undoubtedly affects their asked responsibilities is an unachievable equilibrium. Never the less, by listening and working together, we feel confident that each day we come closer.
This project report is a submission to GlobalGiving's 2017 Fail Forward Contest, where organizations are asked to share a story of when they tried something new that didn't go as planned and how they learned from it. Enjoy!