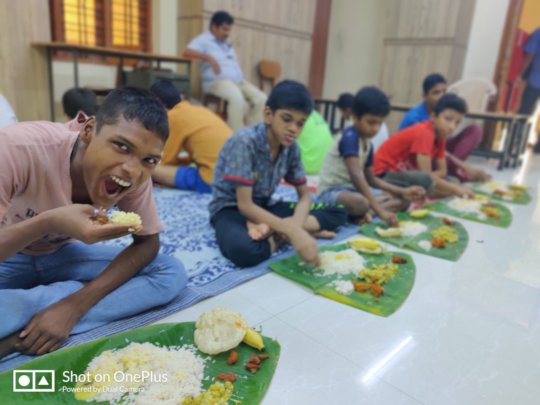 Street children were the most vulnerable during the lockdown. With the nature of their livelihood, they are dependent on begging, vending or helping their families with work. Everything has been affected by the COVID situation. In India, the crisis is extreme for marginalised children. Migrant child labourers, street children trapped midway, are fighting more than they can at their age.
Don Bosco Veedu society is one of the leading institution in rescuing the street children and providing them with shelter until they are secured to their respective families or transferred to other safe settings. Every children who are rescued from streets are provided with enough nutrition at Don Bosco, so that they won't be left starving at streets.
The food schedule for the children rescued from streets were followed as:
Day 1
Puttu and chana masala, Milk
Rice , Egg Curry, Pulses
Appam, Veg Stew
Day 2
Dosa, Sambar and Milk
Rice, Fish Fry, Dal Curry
Chappathi and Potato curry
Day 3
Uppma, Green Peas and Milk
Chicken Biriyani
Rice and Aviyal and Pickle
Day 4
Idli, Sambar and Milk
Rice, Egg Masala and Pulses
Porotta and Veg Stew
Day 5
Bread, Green peas, Banana and Milk
Rice, Fish Curry, Vegetable curry and Fruits
Chappathi and Veg Stew
Day 6
Dosa, Chutney and Milk
Rice, Vegetable curry and Dal
Pathiri and Veg Stew
Day 7
Idli, Sambar and Milk
Rice, Beef curry, Aviyal
Rice Pudding and Curry
This year when the pandemic hit, Don Bosco was able to ensure that there are no children on streets roaming without any food or shelter. We have conducted a quick patrolling in search of children at risk in the streets with the help of ChildLine and has identified 18 potential at risk children. We have provided them with required food and nutrition.