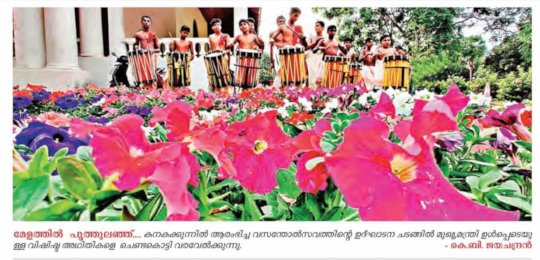 KEEN Chenda Troupe performance
The grand debut and its publicity through mass media provided the troupe with opportunity to perform at various events.
1) Chenda performance at Sreevaraham Mukkolakkal Bhagavati Temple
The temple provided an opportunity for the children to perform during the vijayadashami day on 25 October Sunday. It was a free performance. Marketing efforts made by KEEN The social workers and volunteers of Don Bosco KEEN project visited a few five star hotels and resorts at Kovalam. They introduced the team to the hotel authorities. Supplied marketing materials such as visiting cards, marketing video, and also an offer of demo performance
Click here to view the marketing video: https://www.youtube.com/watch?v=--cIaH-0Qis&feature=youtu.be
Among them The Raviz Kovalam invited us for a Demo performance.
The Demo performance was conducted to host the Delegates of the LG annual meet. At the event general manager of Raviz kovalam came to greet the children. Our children were again invited by Raviz Kovalam to welcome the West Indies cricket team, who had come for the 20-20 cricket match at the green field stadium in Trivandrum. Raviz hotel has shared the video of the event on their facebook page. Click on the link to view the facebook live by
Raviz https://www.facebook.com/RavizKovalam/videos/557804821459943/
We also provided a free demo at Trivandrum Heritage another hotel in Poovar, and we hope to get more performance in the next year
KEEN chenda Melam @ inauguration of flower show
It was a proud movement for the KEEN chenda troupe to perform in the flower show organized by the Tourism department of Kerala. The department invited the children inorder to welcome the Chief Minister of Kerala (Sri. Pinarayi Vijayan).
Links: