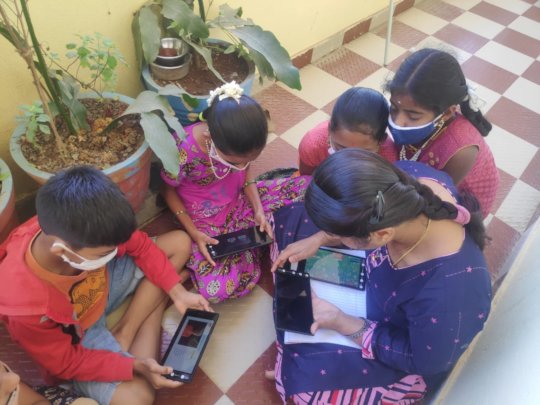 This past year has been like no other! The world as we knew it changed dramatically and threw all of us all kinds of challenges. We, at One Billion Literates Foundation, had a front row seat over the course of this past year as we saw the pandemic and the resultant tragedy unfold in front of our eyes. From relief work on the ground, ensuring that people had food on their plates, to adopting severely disadvantaged rural migrant communities, to finding creative ways to ensure the children most impacted by this, continued to get some form of education & learning – we did it all. We were, in fact, busier than ever. Our team rallied, within the severe constraints, and forged ahead because sitting still was not an option.
School Adoption Program
Our flagship School Adoption Program was completely disrupted by the pandemic, since the schools were all closed. But, as mentioned in one of our earlier reports, we leveraged our own network of Community Teachers, and designed creative ways for them to engage children in learning. We did this by having our teachers form small groups and teach children in open community spaces like panchayat office compounds or temple premises, or in some cases, even open fields or a village dirt road! We also had our teachers go door-to-door and distribute worksheets for children to learn from; and for some hundred+ children who had access to smartphones and digital devices, our community teachers ran WhatsApp based learning sessions. Apart from this, we also embarked on an experiment to teach children using video-based lessons on Tablets. We have covered about 3000 children this academic year.
Curriculum Development
Under the guidance of Professor Rajeevan, a very accomplished scholar of the English language and a widely published author of several books on English, we also used this period to develop a new curriculum that is based on the Common European Framework [CEFR].
Community Rehabilitation
As mentioned in our last Report, we have also started to get actively involved in the lives of a fairly large community of migrant workers. These were people who have made the rural interiors of the metropolis their home and have over time chosen waste-picking as their vocation. When we first met them in April 2020, they had just two days of food left and were on the verge of starvation because of the lockdown. Since then, over the last many months, we have taken baby steps to start a Learning Centre and organise Health Camps. A proper Rehabilitation plan for this community is taking shape, and the coming year will see an increase in our involvement with them.
Teacher Training
Due to the closure of schools, our rural para teachers had flexible timings, and we decided to use this opportunity to upgrade their skills in communication, creativity, pedagogy and the English language. We enrolled half of them in a 4 level, 3 month, intensive course with the Callan Institute of UK. Their progress has been amazing and they are so proud of their achievements, but no less than we are! It wasn't just their language skills – it was the level of their confidence too that really impressed us!
The Year Ahead
We do hope that the year ahead will bring back normalcy to all our lives and that our under-privileged children do not have greater set-backs than they already have.