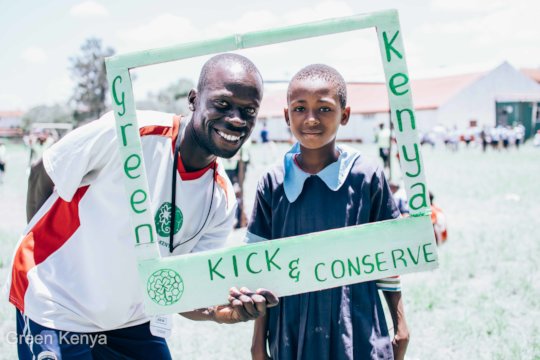 Happy 4th anniversary to Green-Kenya!!!
It is now official that Green-Kenya is celebrating its 4th anniversary this Month of September. It was a wonderful moment to bring together participants from different schools that we work with and Green-Kenya family to have a moment to look back at how the journey started, where we are, and where the dream is headed with a new generation of young people who have been impacted through Community Impact Program.
The first Kick and Conserve out of school
In the quest to reach out to many young people who normally have nothing to do during the holidays, we decided to stretch ourselves in to the community for the first time to teach young people how to conserve the environment through what they love most, football.
Due to many teams that turned up to participate in the tournament, we had to extend the days of playing from the normal one day to 5 days, 42 teams, both boys and girls age 14 years and below showed their interest to participate in the tournament, this represented a total of 700 Children. The number was a surprise to us. This number almost doubled Kick and Conserve in school, thanks to your supportr!!.
During the final day of kick and conserve, we received positive comment like this from one of the coaches "Sincerely speaking it was a great tournament that we will live to remember thanks again for fairness and hard work may God bless the work of our hands let's stay together like brothers coz we all have one mission and vision and that is to take care of mother nature through sports."
Kick and Conserve out of school has been a learning curve for all the community coaches, and just like Kick and conserve in school started to become one of the major football tournament to learn about becoming environmental stewards, I believe that Kick and Conserve out of school will gain grounds for children to explore their talent, a place where we will not test their minds with facts and figure but learn how to value human dignity, how to work as a team and find ways to improve on how we treat our environment knowing that if there will be any change that will take place on earth, it will have to start with us, whether young, mature or old.