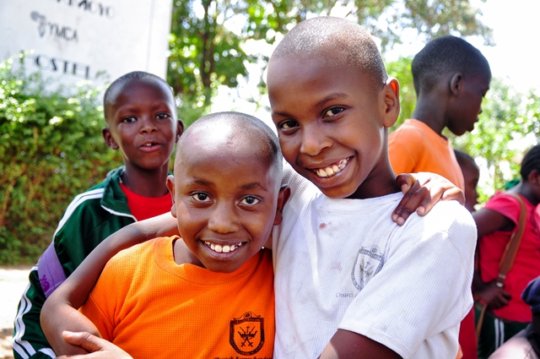 Dear Friends,
It is Green-Kenya 3rd anniversary,
We have just celebrated our 3rd anniversary on 23rd September! Where else was the celebration supposed to be if not in the field? We marked this special day with our participants on the field. The participants sang happy birthday before the session began while giving each other "Hi Five".
This is another great mile stone that we are celebrating with all our supporters locally in different parts of the world. We would like to thank you as our supporter, the parents, the head teachers of more than 10 primary schools that we are always in contact with to monitor the progress of the participants who have been in our program, the community coaches and all the volunteers who have given their best to ensure that Green-Kenya delivers a quality program.
We can only assure our participants and you that we still have room to accomplish more than we have done so far, and with your support we will reach many young people with our transformative programs.
This project report is a submission to GlobalGiving's 2017 Fail Forward Contest, where organizations are asked to share a story of when they tried something new that didn't go as planned and how they learned from it. Enjoy!'
It was in the initial stages of project implementation and we were very eager to share with the community about our conviction of teaching through sport and experiential learning and so we went to one of the school which allowed us to teach their pupils during physical education time. The whole upper class pupils of about 350 in number came out and we were only two Community Coaches.
By then, we wanted to demonstrate to the head teacher how we pass the information to the pupils through sports. The head teacher told us that he would like all the pupils to participate so that they many not feel left out. The idea was to convince the head teacher to allow us run the project in his school during physical education lessons.
The method we used failed terribly because we never thought of picking a small group from the crowd to demonstrate the idea. We thought of allowing everybody to play, which is a good idea but we forgot that the crowd was not manageable and many of the participants were already withdrawn from the activity.
The experience was embarrassing but it was liberating in one way, we realized that for us to demonstrate what we do to the sports teachers or head teachers for that matter, the best thing to do is to request a small number of participants. This can be one class of about 40- 50 pupils to demonstrate the game. The group is small enough for two Community Coaches to handle without losing the concentration of the pupils.
Well, whenever we remember that day, we always laugh at ourselves but it taught us vital lessons that we had to learn the hard way. Now we have been able to turn the failure in to success. First and foremost, we have been able to come up with a diagnostic plan for any school or community centre which has shown interest in our program. In the diagnostic plan, we plan on meeting with the head teachers and the Sports teachers and explain who we are, What do we do and how the program will impact the lives of the Children.
We also enquire on the number of pupils in the upper classes. This information helps us to know whether we will divide the session in to segments in a week or have a single session in a week. We will also be able to find out how many Community Coaches we need. We now know that one coach can handle between 25-30 pupils in one session.
Another way of growing our impact that we learnt, was inviting schools to our Kick and Conserve tournament that takes place twice a year. The tournament has 3 segments namely environmental games, environmental discussion and football. No school can emerge the winners by just playing football, they must go through environmental games and discussion that explains the importance of conserving our environmental and how to ensure it is sustainable.
Lastly, we no longer struggle to explain, to conduct and measure the impact of our programs, thanks to one embarrassment that we had in the process of becoming who we are today.
Links: