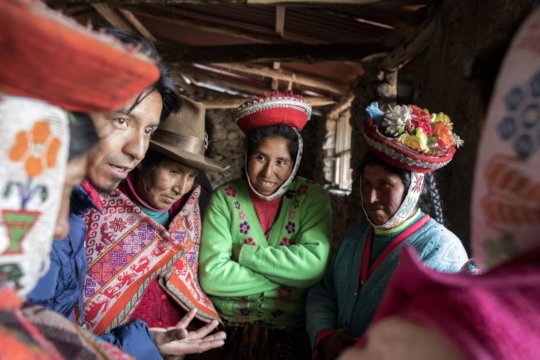 Awamaki's mission is to provide sustainable economic independence to indigenous women through trainings and connecting them to the global markets. One of the ways we do this is by organizing and planning workshops for our partner cooperatives in their home communities. Recently we've received feedback from a few of the cooperatives regarding their interest in more workshops. In response, we developed a partnership with Pabel Aimituma, an economist from Cusco, to lead a series of five workshops varying in subject matter, such as self-esteem and business skills.
Pabel began working for an NGO and quickly realized that vulnerable groups, in this case indigenous women, were not getting the attention or accommodation necessary to achieve their goals or experience success in various professional settings. He decided to curate workshops that focused on skills that the women cared about learning, and ones that would actually benefit them in the long run. He began to design workshops he believed would make an impact by communicating with the women and asking them about their desires and their business needs.
When building the workshops, Pabel strived to incorporate games and group activities instead of lectures. He explained that he prefers being a facilitator to his workshops and encouraging the women to figure things out on their own rather than just telling them what to believe and how to think. He wanted to create a space in which the women could have fun and connect, while also learn valuable lessons about themselves and their communities. Before facilitating the workshops, he researched extensively about the women in their specific environments, allowing him to customize each workshop to fit a certain community's structure, and makes sure the language he uses is clear, direct, and resonant.
Because he works in a social field, he is exposed to various displays of vulnerability and poverty. He explained that indigenous women are especially susceptible because of their limited access to sustainable economies. When I asked him about his main objective in creating the workshops, he replied, "to contribute to improving the quality of life of rural families through the reaffirmation of cultural identity and providing information to make better decisions."
Pabel's workshops aim to convey that success, freedom, and personal happiness knows no age, color, sex, religion, education level, or socioeconomic stratum.
Virginia, one of our partner artisans from the community of Huilloc who attended a full series of the workshops, mentioned her favorite part of the workshops were "the interactive activities centered around group dynamics." Virginia started working with Awamaki more than five years ago. Now, at 30, she has begun to set up a support system for her children and her community. "It is improving our lives, so that we can gain what we want for our children," she commented. In the workshops, she especially appreciated the parts of the workshop that explained the benefits of having a clean and organized life.
One of the workshops centered around organization and managing group dynamics. To begin the workshop, Pabel instructed the artisans to form a circle. A common first activity of Awamaki workshops is an introduction circle in which the women toss around a ball of yarn, while holding onto a piece to create a web, and then alternatively following the path of the yarn backwards untangling themselves as a team. The activity was meant to represent the ways in which people in a community are connected. Once each woman introduced herself, Pabel directed a group discussion about why organization was important for a successful business. He advocated for universal participation, and asked follow-up questions to encourage the women to further their critical thinking skills.
Pabel often works with large visual tools such as the posters he used to explain the cycles of organization. He portrayed the process in a way that was accessible for the artisans using large illustrations, and bright colors when possible. Whenever a woman had a question, Pabel was sure to answer in a thoughtful and deliberate manner to help encourage participation and questions from the artisans.
After the discussion, he asked the artisans to form groups of six. Once the groups were formed, he brought the first group to a table in the middle of the room. On the table was a marker with six strings attached to it and a blank piece of paper. Pabel instructed each woman in the group of six to pick up one piece of string. When all six were holding on to a piece, he told them to draw a picture; one group was told to draw a sun, and other groups were told to draw a moon, a flower, and other various seemingly simple items. Each holding on to one-sixth of the marker, the women had to work together to create an image, requiring not only teamwork but highlighting how vital communication can be for a group to succeed together. This exercise encouraged the practice of values like patience, cooperation, and flexibility. Once all of the groups had drawn their pictures, Pabel led the artisans through a group discussion about the takeaways from the exercise.
It is incredible to see the magnitude that a three-hour interactive opportunity can have on a community and its individuals, especially with consistency of a few consecutive workshops. It is inspiring to see the success of Awamaki's business training and empowerment initiatives.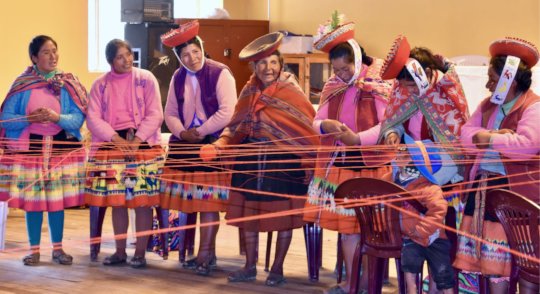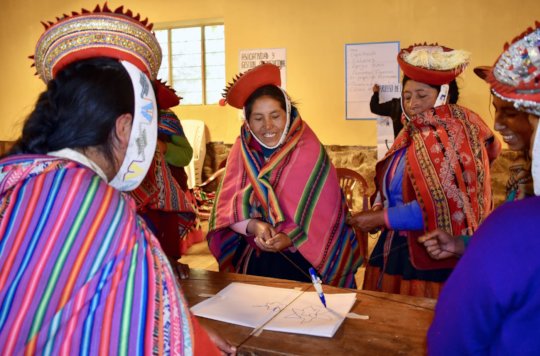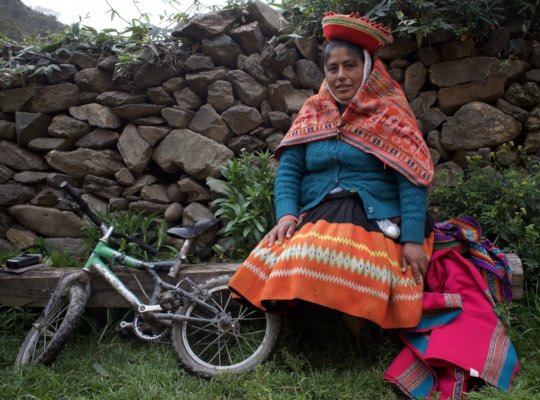 Links: