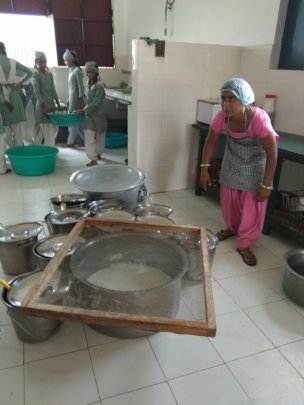 We, at BSPES, greatly appreciate all our donors. It is your donations that have helped us achieve our goals, and we hope that you all will continue your support.
The new kitchen is not completed but is still underway. In the last quarter we managed to collect $104. Thank you to all who donated. But we still have a long way to go and we hope you all will continue to support us in whatever way you can. Every penny will count towards brightening some young girl's future. This kitchen when completed will be able to provide all the 900 girl students with at least 1 meal. This meal for many of the girls might be their only proper meal of the day. With proper nourishment these highly ambitious girls are able to concentrate and focus, as they strive to fulfill their ambitions.
Inspite of all the hardships at home the average attendance of girl students in both primary and junior/senior sections was 85% in July.
Here are some of our success stories. It is these successes that reinforce in us that we are moving in the right direction with these girls, who under different circumstances might be put to work to earn a living, or then married to someone much older to reduce the burden on their parents. With this school they are now able to get an education and learn to be financially independent.
Beyond finishing high school at BSPES -
Gajal has completed her diploma course at Nettur Technical Training Foundation (NTTF), Bangalore, and has landed her first job at Samsung R&D Institute India as an associate.
Kajol has completed her diploma course at NTTF as well, and landed herself a job at Wimera Systems Pvt Ltd. Bangalore as a software tester.
Seniors at BSPES -
Sarvesh and Jyoti graduated this year from BSPES and have been selected for a 3 year diploma course at NTTF, Bangalore
Bhavana has been selected for the Masters in Commerce (M.Com) program at Banasthali Vidyapeeth University in Rajasthan
Rekha Rayka has joined an Administrative Course offered by the Community College Initiative Program at Denver, USA.
Avanu applied and got selected for her Masters in The Yoga & Consciousness Program at SVYASA Bangalore, India.
Health, Hygiene, and Social Sector -
Dr Taneja Donated a Haemoglobin Machine and has performed health checks on the students as well
Mr Mahesh Ramchandran, living in Austin, TX USA (he initiated the new Kitchen project) visited our school.
Two batches of self-employed tailor training has been completed at BSPES with the support of NBCFDC (National Backward Classes Finance and Development Corporation
Our sewing center has sewed 50 uniforms for our students.
We distributed 115 Sanitary Napkins to students who have 90% attendance.
NBCFDC has provided a Sanitary Napkins Dispenser and incinerator for our students. Mr Kathuria (GM) of NBCFDC & his team visited our school and we conducted a health and hygiene program with their support. Mr Kathuria inaugurated The Sanitary Napkins Dispenser & Incinerator.
We have initiated the Sukanya Samridhi Yojna account for NS and 1st grade students, supported by RTI team members.

Primary Section -

Make your own Play Doh activity - Nursery to prep class engage in fun activities using their fine motor skills. They have fun making different vegetables and fruits using their imagination with the play doh made with flour
Hand Wash Activity - Nursery to Prep class is learning the importance of hand washing and the reasons for making this a habit.
General Knowledge Competition:- One of our new teachers, Ms Mohini Sharma, has started a competition where she puts up questions in the hallways and the 6-7th grade students write down the answers they know.
Role play, hands-on learning are some of the new and exciting ways in which the teachers are beginning to teach and assess the student's knowledge base.
Junior/Senior Section -
Using Technology in Academics - Our 11th & 12th grade Physics classes are completely taught through video lectures by ASHISH SINGH and PRADEEP KSHETRAPAL. Their YouTube videos have taken over the position of teachers since it is hard to find high caliber teachers in this part of the country for these subjects. These lectures are highly appreciated by students. However this does require more laptops and projectors to conduct these YouTube sessions.
The 11th and 12th grade Economics classes have also employed the same teaching approach. So far we have set-up five rooms as projector rooms, but we are definitely looking to get more set up with additional devices.
Some IITians (Students studying at IIT - Indian Institute of Technology) also visited our school and taught Calculus and Vectors to the students. They motivated the students to self-study as they talked about focus and self-discipline.
Junior/senior teachers are being trained on incorporating thinking skills in teaching and assessments (Bloom's Taxonomy). Sessions with teachers have been taken on developing questions on different domains of learning with examples from Sociology, Civics, Maths, and English Teachers practiced and developed similar questions on different topics of their subjects. Now they have added these domains in their lesson planning. Teachers training also included how to split and organise the syllabus of different subjects All the teachers teaching BOARD classes have split-up their syllabus and are following it in their teaching classes. All are confident to finish their syllabuses before September last or October mid. After this continuous practice and assessment will be done with these classes
One of our graduates, Indu, she graduated from high school last year, is being trained as a computer tech. After just a week's training Indu is able to open laptops/computers, replace hard discs, RAMs, CMOS battery, install windows and all necessary software, and to do general troubleshooting/diagnosing.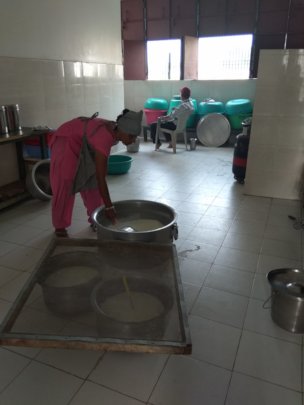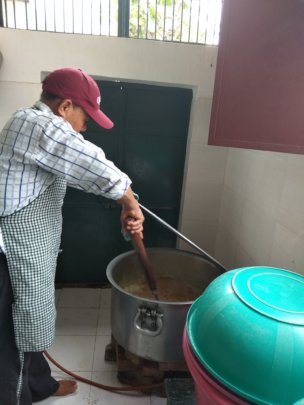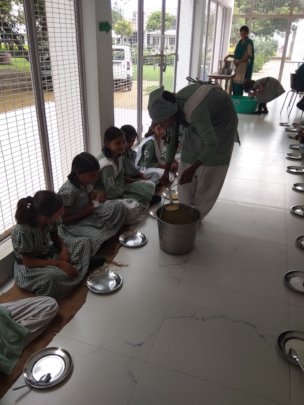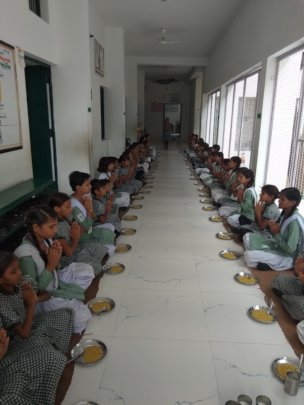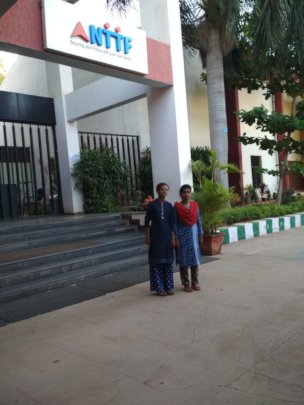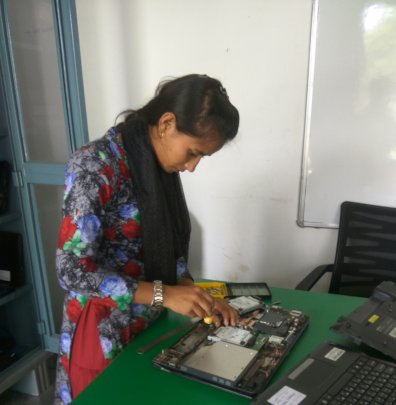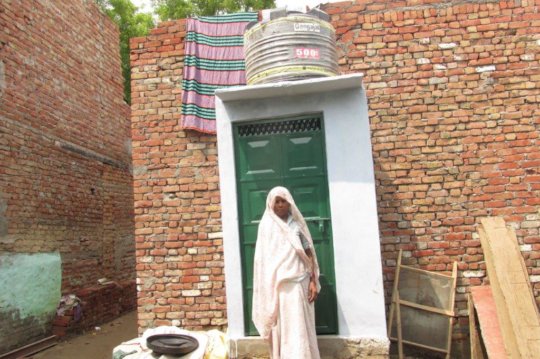 Links:
Thank you to all our donors. We, at BSPES, really appreciate you all so much and your money has gone to a great cause. We collected a total of $1,588 towards this project. Here is an update on what is going on with the Kitchen Project.
We have constructed the new kitchen building which is complete with porcelain tile flooring, wall tiles, lighting and ceiling fans, as well as the installation of four sinks with new fixtures. This has cost us about $1200. We are still using old appliances since we don't have enough funds to buy new ones as yet.
Nevertheless, with the new kitchen, we have been able to support 400 girls with breakfast, which consists of a glass of milk and some protein-rich food.
Anemia is common in these girls due to inadequate nutrition. Providing breakfast to these girls has helped with a 30% reduction in the same. We are able to conduct weekly health check-ups and using the BMI records are able to calibrate the breakfast program to provide the specific nutritional requirements.
Our senior students help in the kitchen serving breakfast to the younger girls. This volunteering has also helped keep our breakfast costs down.
Below are some of the other school updates from May 2019
Average attendance in the school was 90%.
Primary teachers completed their teacher training.
DIOS (district inspector of school) Aligarh awarded 3 of our 10th and 12th-grade toppers - Priya, Shikha & Jyoti.
Muskan, having completed 12th grade, is selected for HCL TSS Training (learn and earn) Program
Bhavana has been selected for Masters in Commerce (M.Com) Program at Banasthali Vidyapeeth University Rajasthan India
Rekha Rayka got selected for CCIP program managed by US Embassy New Delhi
185 Students have earned Sanitary Napkins from the program by maintaining 90% or over attendance.
Uniforms and Books were distributed to the students under BPL (below poverty level) and over 90% attendance.
Our 2 Alumni (Sanju & Shivani Gupta) got selected in Apollo Medskills courses.
Dr. Taneja was able to complete physical health check-ups for 60 Students
NBCFDC (National Backward Classes Finance & Development Corporation) has agreed and released the first installment for development of state of the art Physics Laboratory at the BSPES campus.
National Backward Classes Finance & Development Corporation (NBCFDC) New Delhi and National Institute for Entrepreneurship and Small Business Development NEISBUD Noida has started the skill development/sewing training program at BSPES campus for over 50 trainees (mothers).
See attached pictures.
Links:
WARNING: Javascript is currently disabled or is not available in your browser. GlobalGiving makes extensive use of Javascript and will not function properly with Javascript disabled.
Please enable Javascript
and refresh this page.