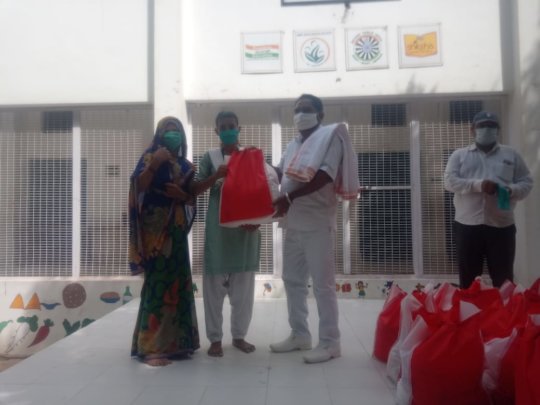 In our last report (March 2020) we had informed you that we have accumulated the necessary funds for the kitchen project and will now move the new funds over to the education of the girl students. We would like to express our gratitude and thank all of our donors for their generosity and in making this happen for us. Without your support we wouldn't have been able to accomplish this.
Since March 2020, COVID-19 has hit the whole world in a bad way, and along with everyone else we are also trying to help our community in the best possible way. Schools were closed down and India went into a complete lockdown mode as per the Prime Minister's orders.
As the country has come out of lockdown (and to an extent even before that) our school and our volunteers have been working hard to help the student's families as well as the surrounding villager's families in these times of need.
Distribution of grocery bags :
Our student families were faced with no jobs, and hence no incomes at all. The BSPES team and its supporters came together and have helped the families in need by distributing around 1000 bags of groceries. The bags include 10 kilos of wheat flour, rice, sugar, lentils, salt, and spices. These are the basic necessities for the daily wage workers who have lost their jobs and may not have any way to receive the supplies/support from the government programs.
An additional 50 bags of groceries were also distributed with the help of the Ludhiana Round Table.
Sewing and distributing Face Masks :
The BSPES team have also undertaken the task of stitching face masks at the school itself. They have made masks for the students and the elderly, and are planning to distribute them at a cost of Rs.7 per mask. This inturn generates income for 2-3 people (mothers of the students) who work in the sewing center of BSPES.
Here is the breakdown of the cost of making a mask -
Cost of cloth/mask - Rs. 3.33 (Green Cloth per meter - Rs. 50 and no. of masks/meter is 15)
Elastic, Thread and Other Things/mask - Rs. 1.67
Stitching Cost/mask - Rs. 1.5
Maintenance - Rs. 0.50
Total cost/mask - Rs. 7
We are making 3000 face masks to distribute in the community to students and their families, and people in essential services such as police, cleaning, and the health related sectors. As the demand grows we will increase the number of masks made.
We have also started making Khadi face masks (a suggestion posed by our volunteers) to support our local weaver community, in addition to the cotton facemasks. The Chairman of Nagar Palika Jattari has supported this initiative and it was covered by local newspapers. Not only are we providing masks at a very affordable price, we are also employing the mothers of our students to do this.
On a different note :
One of our students who was pursuing the yoga course at Vivekananda Yoga Anusandhana Samsthana (http://vyasa.org) Bangalore Campus, is now pursuing her Masters in Yoga Science. She got the opportunity to perform recently in Bangalore. Photos are included below. It is great to see how committed students can follow their dreams, even if they come from marginal backgrounds.
Below are some of the photos that show the work done by BSPES and its volunteers. Once again we would like to extend our gratefulness to all of our donors. We know there are lots of options and we are truly indebted to you all for your generous donations. These donations allow us to continue to help our community and make great things happen.